Another Set Of Rumored Canon EOS 7D Mark II Specs Surfaced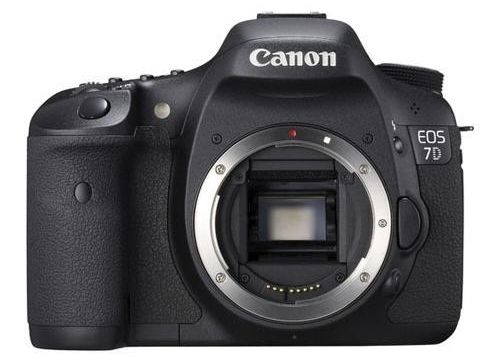 The glorious Canon EOS 7D – to be replaced soon – will Canon surprise us??
After the rumor I posted earlier this day, another set of possible specifications of the soon to be announced EOS 7D replacement immediately surfaced on the web. It comes from Canon Rumors, they are guessing these might be the EOS 7D Mark II specs and give the following list a 90% accuracy:
Kit lenses: 18-135 IS STM and a supposed new 15-85 IS STM
CF, UDMA mode 7 + SD, UHS-I
No GPS or WiFi
Fixed LCD, with no touch function.
20.2MP "Fine Detail" CMOS  Sensor
Dual Pixel CMOS AF
Dual DIGIC 6 Processors
65 AF points "All Cross-type". Dual cross on the center point.
10fps
ISO 100-12800, ISO Boost mode 25600 and 51200
1080p/720p both get 60fps
Servo AF for video shooting.
Anti-flicker mode, eliminates flickers under flickering lights (e.g. fluorescent lamps).
Spot metering size 1.8%
Built-in flash with radio trigger function.
Mic and headphones connectors
Can sync time between 7D II cameras.
Lens electronic MF
About 100% coverage OVF
I can not yet confirm these specs. But it's good to see that the rumor I reported got confirmed for some of the things I wrote (build quality, sensor), and since we are hungry for the EOS 7D Mark II specs, it's good to see that a new spec list surfaced so soon after the rumor I posted. However, it is a boring one. Let's hope Canon has more to offer.
CW's take:
Take it with a grain of salt. Canon is very good in keeping their engineering achievement and strategic plans secretive until the very last moment (no one knew they would announce new printers, with cloud connectivity, NFC and Apple Air print support). It's not like Sony or Fuji, they really love to stray rumors to get the hype.
All in all, the spec list above is pretty lame and not what I am expecting Canon will announce. C'mon, no WiFi and GPS? These spec list looks like the Canon EOS 70D with some push-up (minus the WiFi).
As far as I can tell and have been told, the sensor will feature Dual Pixel CMOS AF, but with a new level of performance above the EOS 70D. Which is due to the increased CPU power of the EOS 7D replacement.
The sensor is the real guess. All agree that Canon is going to introduce a new sensor technology, unfortunately no one knows what's coming. Based on what I have been told, it seems that Canon is still not playing the high megapixel game, but I have also been told (all new sources) that it will be a sensor with very good low light/high ISO performance and dynamic range above the concurrence competition at ISO above 1600.
We are close to see what's coming. Stay tuned. And feel free to express your opinion in the comments.