Canon EF 17-40mm f/4L DxOMarked (and compared to other lenses)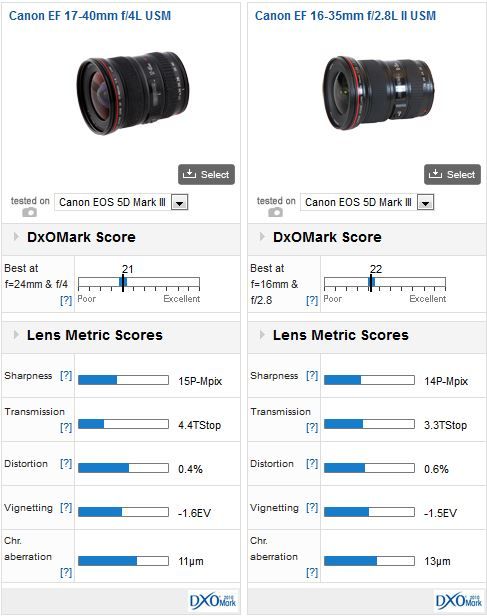 DxOMark tested the Canon EF 17-40mm f/4L lens (price & specs), a well-known work-horse for lots of photographers, and one of the less expensive "L" lenses. More after the break.
The 17-40mm got an overall score of 21, and scores just one point less than the EF 16-35mm f/2.8L II USM lens. In the conclusion DxOMark writes:
Due to its more glamorous sibling this modest lens is often overlooked though it's well known for its high-performance by Canon users. As a small, light, highly portable zoom it would make a great choice for travel, landscapes and general-purpose photography.  Although not exactly cheap at $839, if portability is a concern it's a great alternative to the faster model.
I was curious to see how the 17-40mm and 16-35mm performed on an EOS 70D, when compared to the awesome Sigma 18-35mm f/1.8 DC HSM (price & specs). See below, and judge by yourself.
The Sigma scores 27 points, compared to the 15 of the 16-35mm and 14 of the 17-40mm.
Canon EF 17-40mm f/4L lens price check: B&H Photo, Adorama, Amazon USA, Amazon Canada, Canon Canada, Canon USA Canon EF 16-35mm f/2.8L II USM price check: B&H Photo, Adorama, Amazon USA, Amazon Canada, Canon Canada, Canon USA