Canon announce SELPHY CP1000 compact photo printer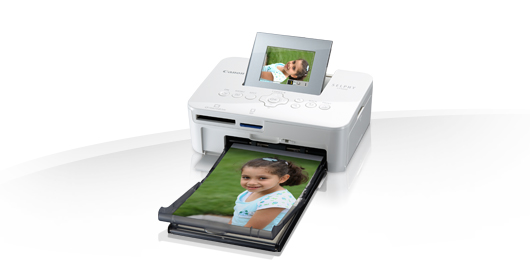 Compact and portable photo printer ideal for home or away
Quick and easy printing from camera, USB or memory cards
Make lasting memories with durable lab quality prints
Selectable finishes with standard photo paper
Create ID photos to widely accepted standards
The SELPHY CP1000 will be available from early July with an RSP of £89.99/€109.99. Canon press release:
United Kingdom, Republic of Ireland, 16 April 2015 – Canon today unveils the SELPHY CP1000, a new compact photo printer that allows you to print creative, lab-quality photos at home and on the move. 
Capable of printing your favourite images in just 47 seconds1 directly from your camera2, USB or memory card, with the SELPHY CP1000 now every photo can be treasured.
With an elegant, compact design, the SELPHY CP1000 includes 6.8 cm (2.7") LCD tilting screen and combines an easy-to-use interface with exceptional print quality.
Plus, with the inclusion of an optional battery pack accessory, the CP1000 is the ultimate portable photo printer.
Print your favourite photos in rich, vibrant colours With ultra-high quality prints thanks to advanced dye sublimation technology, the SELPHY CP1000 produces high-resolution photos using 16.7 million colours.
For even more clarity in prints the CP1000 also includes an Auto Image Optimize feature to further enhance blue skies and sunsets, correct colour cast and contrasts, as well as remove red-eye and noise.
Plus, for picture-perfect selfies and group shots, the Smooth Skin mode removes facial imperfections to ensure you get stunning results every time.
Full control for creative freedom With the ability to control the heat applied to the ink ribbon on the print head, the SELPHY CP1000 offers four print finishes without ever having to use a different paper or media type. The options include a glossy finish for a durable print that will last up to 100 years, and three variations of semi-gloss for smudge and fingerprint resistant photos you can hand around.
Whether you need a standard postcard sized image or a more unusual shape, such as a 50 x 50 Instagram™ style or a credit card sized print, the SELPHY CP1000 gives you the freedom to make your prints your own. The SELPHY CP1000 also allows for ID Photo Printing at 43 pre-set sizes, perfect for small offices or events where you need to print ID badges in a hurry. Plus, with the ability to print two different ID image sizes on one sheet, and ID framing and cutting guide improving accuracy and precision, every print counts with the minimum of waste.
SELPHY CP1000 key benefits:
· Compact and portable photo printer ideal for home or away · Quick and easy printing from camera, USB or memory cards
· Make lasting memories with durable lab quality prints · Selectable finishes with standard photo paper
· Create ID photos to widely accepted standards
Pricing
The SELPHY CP1000 will be available from early July with an RSP of £89.99/€109.99.