Canon announce three new Full HD camcorders with 20x optical zoom (Canon X11, X15, Vixia G21)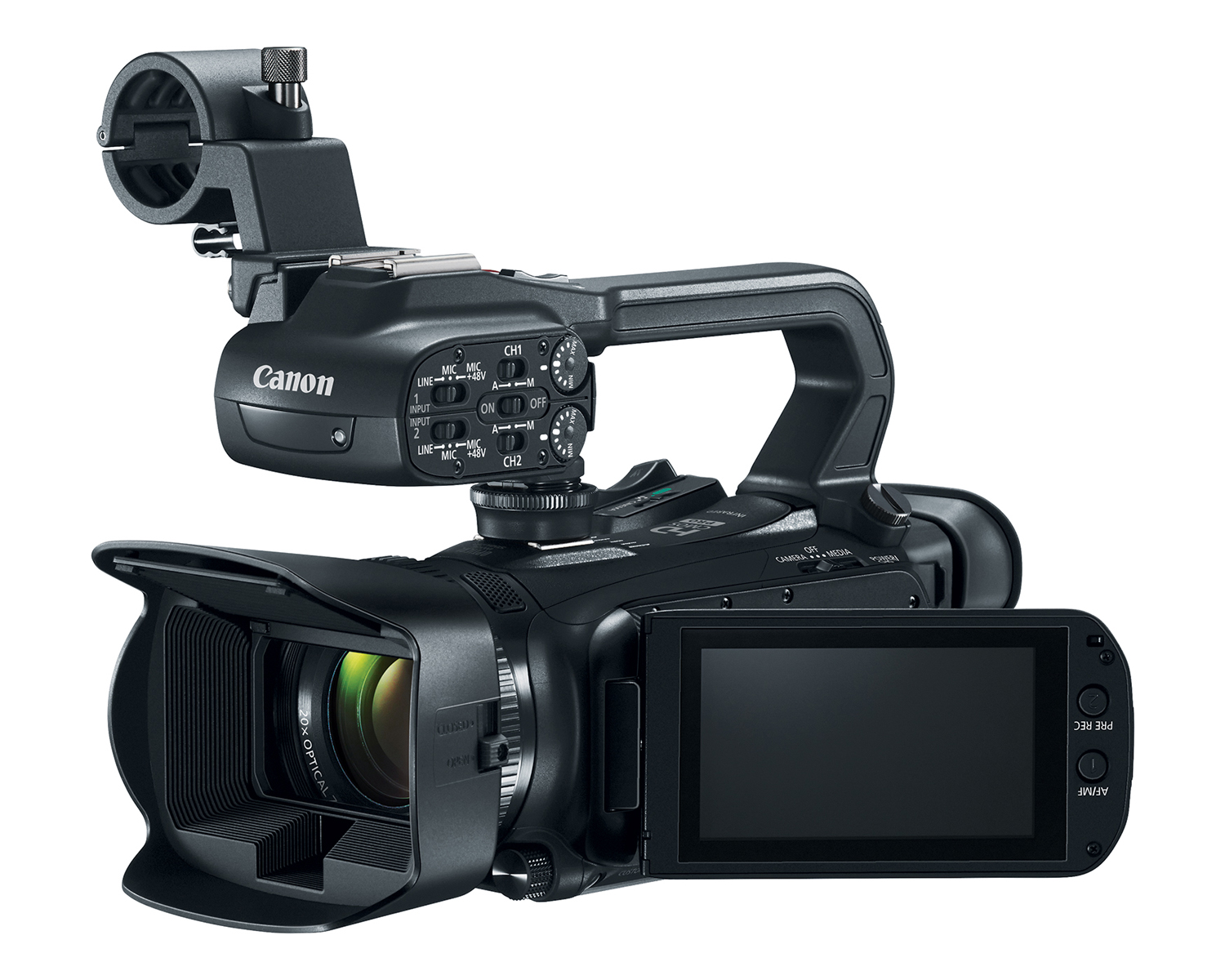 More gear gets announced today (see here too). Funny is, no rumor site saw it coming :-)
The Canon XA15, XA11 and VIXIA HF G21 Full HD camcorders are all scheduled to be available at the end of December 2017 for an estimated retail price of $1,899, $1,399 and $999 respectively.
Some of the gear is available for order/pre-order:
Canon press release:
Canon U.S.A. Ups The Videography Ante With Three New HD Camcorders
New XA15, XA11 and VIXIA HF G21 Camcorders All Feature a Full HD CMOS Sensor, 20x HD Optical Zoom Lens
MELVILLE, N.Y., December 5, 2017 – Canon U.S.A. Inc., a leader in digital imaging solutions, today announced the launch of three new compact and lightweight Full HD camcorders, the Canon XA15, XA11 and VIXIA HF G21. Delivering first-class optics, powerful sensors and a range of versatile features, these camcorders are perfect for a broad range of video productions.
"The ability to capture high-quality video on-the-go in a compact and lightweight form factor is extremely valuable to videographers of all skill levels," said Yuichi Ishizuka, president and COO, Canon U.S.A., Inc. "These camcorders were designed to help professionals and enthusiasts who are in the field capture action as it happens."
Professional Performance and Functionality
The Canon XA15, XA11 and VIXIA HF G21 Full HD camcorders each provide videographers with a spectacular 20x 26.8mm-576mm optical zoom lens allowing a user to easily capture a variety of scenes with superb image quality. Canon's HD CMOS Sensor and the powerful DIGIC DV4 image processing platform deliver great performance in low-light and the ability to capture superb Full HD images in 60p at 35Mbps. Wide DR mode supports the smooth compression of high luminance areas to achieve 600 percent DR making it possible to shoot with smooth color gradation and suppressed overexposure. This is applicable to any shooting environment where the difference between light and dark areas is prone to causing overexposure. Flexible image expression is supported by a Slow/Fast Segment function that enables users to select shooting speeds from 0.4x to a maximum of 1,200x, and a Hi-UD lens supports the reduction of chromatic aberration and drives vivid imaging.
These camcorders are capable of recording in both AVCHD and MP4 formats, at multiple bit rates, simultaneously, to Dual SD card slots. All camcorders offer HDMI, headphone jack, optional GPS support and the XA15 and XA11 models offer XLR professional audio terminals. Additionally, the XA15 model also features a HD-SDI output. Comprising of a compact and lightweight body, each camcorder is ideal for high-action shoots when both speed and mobility are essential. Dynamic Mode provides 5-Axis image stabilization – roll axis, horizontal roll, vertical roll, up-down and left-right – to help facilitate smooth image capture in various styles of fast-paced shots. The VIXIA HF G21 is identical to the XA15 and XA11 in performance, but does not include a handle.
Key Features:
High optical performance
Stunning Full HD image quality
Professional recording options
Professional interfaces
Easy operability and compact design
Pricing and Availability
The Canon XA15, XA11 and VIXIA HF G21 Full HD camcorders are all scheduled to be available at the end of December 2017 for an estimated retail price of $1899.00, $1399.00 and $999.00 respectively*. For more information please visit, usa.canon.com.
About Canon U.S.A., Inc.
Canon U.S.A., Inc., is a leading provider of consumer, business-to-business, and industrial digital imaging solutions to the United States and to Latin America and the Caribbean markets. With approximately $29 billion in global revenue, its parent company, Canon Inc. (NYSE:CAJ), ranks third overall in U.S. patents granted in 2016.† Canon U.S.A. is committed to the highest level of customer satisfaction and loyalty, providing 100 percent U.S.-based service and support for all of the products it distributes in the United States. Canon U.S.A. is dedicated to its Kyosei philosophy of social and environmental responsibility. In 2014, the Canon Americas Headquarters secured LEED® Gold certification, a recognition for the design, construction, operations and maintenance of high-performance green buildings. To keep apprised of the latest news from Canon U.S.A., sign up for the Company's RSS news feed by visiting www.usa.canon.com/rss and follow us on Twitter @CanonUSA. For media inquiries, please contact [email protected].
# # #
†Based on weekly patent counts issued by United States Patent and Trademark Office.
* Availability, prices and specifications are subject to change without notice. Actual prices are set by individual dealers and may vary.