Canon Announces The EOS-1D W – The Canon DSLR For Wildlife Photography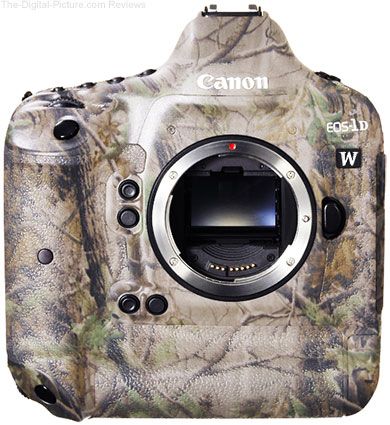 Canon announced the Canon EOS-1D W, a professional DSLR especially thought for wildlife photography. :-)
Canon press release [via TDP]:
CANON U.S.A. INTRODUCES THE NEW CANON EOS-1D W DIGITAL SLR CAMERA, DESIGNED FOR "WILDLIFE"
Featuring Canon's proven 61-Point High Density Reticular AF, Extreme Fast Shooting up to 24 fps, 39.9-Megapixel Near-Full-Frame CMOS Sensor, Outstanding ISO Sensitivity up to 204800, Dual Pixel CMOS AF II, Full HD Video Recording, Extreme-Durability Camouflage Finish, Development Announcement of EF 200-600mm f/4 L W IS USM/STM Lens
LAKE SUCCESS, N.Y., April 1, 2014 – Canon U.S.A., Inc. once again shows its leadership in digital imaging by introducing the Canon EOS-1D W "Wildlife" Digital SLR camera, the EOS-1D W is the world's first professional DSLR designed specifically for the needs of wildlife photographers and videographers. A new addition to Canon's arsenal of professional DSLRs, the EOS-1D W is a progressive EOS-1D series camera based on the EOS-1D X, but loaded with exciting new features.
According to Sakuichi Ishizukara, Canon's Executive Vice President and General Manager, Imaging Technologies & Communications Group, Canon U.S.A., "Wildlife photographers make up a large percentage of DSLR camera users. These photographers have specific needs – needs that have long been overlooked."
"That the new Canon EOS-1D W is going to revolutionize wildlife photography is unquestionable" says Martyn Culbreck after 3 months of field testing the new camera. Mr. Culbreck is the Director of Photography for BBC's upcoming "Planet Life" series. "We spend weeks waiting for the an animal to be in the right position. When that perfect moment arrives, we cannot risk any camera-related issues causing a missed shot. The EOS-1D W is a game changer. It never misses."