Canon Asks CPS Users About Feeling Appreciated and How Exciting Its Products Are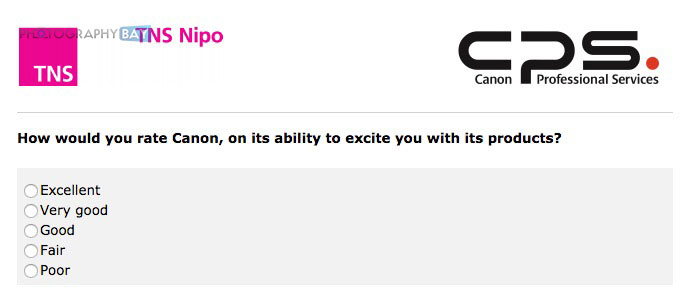 Image courtesy by Photography Bay
Canon is doing a user survey (source: Photography Bay). It seems the company is responding to the criticism (by some people) of not listening to users.
A survey was sent around to users of Canon Professional Services. Questions are about cameras users owned in the past, or about user's feelings about other brands.
Btw, I do not think Canon is not listening to their users. Maybe the ignore the more gadget oriented folks, but for sure they know what photographers want when it comes to mundane stuff like weather sealing, a highly advanced AF, and industry leading high ISO performance. Making real tools for real photographers. Yeah, I mean the Canon EOS 7D Mark II.
More about Canon's user survey at Photography Bay.