Canon COMPACT-SERVO 18-80mm T4.4 overview video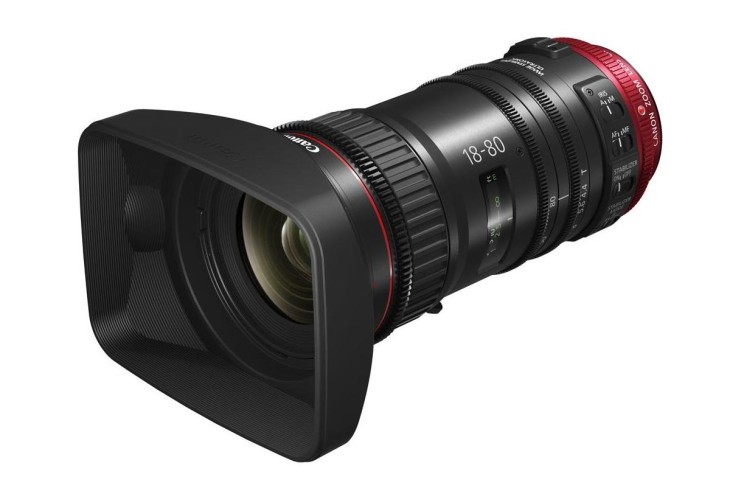 Canon COMPACT-SERVO 18-80mm T4.4: Adorama | B&H Photo
Canon COMPACT-SERVO 18-80mm at a glance (taken from Adorama's product page, pre-orders possible):
Covers 18-80mm Focal Length with Servo Control Capability: The lens is equipped with an electronic zoom that delivers smooth, quiet and stable zooming from high speed to low speed across the entire 18 80mm zoom range.
High-level 4K Optical Performance: Designed to fulfill contemporary 4K production standards, the lens provides superb optical performance with 4K support through the entire zoom range, from the center to the perimeter of the image.
No-step Iris Mechanism for Motion Picture Shooting: Smooth, no-step iris operation can be controlled manually or electronically. The iris can be closed at the minimum aperture.
Focus Breathing: Featuring zoom and focus mechanisms suitable for video shooting, the variance in angle of view during focusing is minimized
Newly Developed Servo Drive Unit: The newly developed servo drive unit allows you to control zoom, focus and iris over servo.
Compact and Lightweight: For Increased Mobility and Versatility
Autofocus Function: The lens is equipped with an ultrasonic motor (USM) to support Dual Pixel CMOS AF (Auto-Focus) and the Dual Pixel Focus Guide.
Image Stabilization: Featuring optical-shift image stabilization, this lens provides strong IS from low to high frequencies to help enable stable shooting
EF Communication Functions Ideal for Video Shooting: The lens supports various EF communication functions via the electronic contacts of the EF mount
Canon's Technical USA Advisor Brent Ramsey discusses the features and benefits of the Canon COMPACT-SERVO 18-80mm T4.4 EF. This lens can be ideal for the cinematographer moving up from EF lenses, combining the functionality of EF lenses with the video shooting features of Cinema lenses, as well as benefits of compact size and lightweight (only 2.7 lbs.) for outstanding mobility.