Canon EF 24-70mm f/4L IS USM Review (slrgear)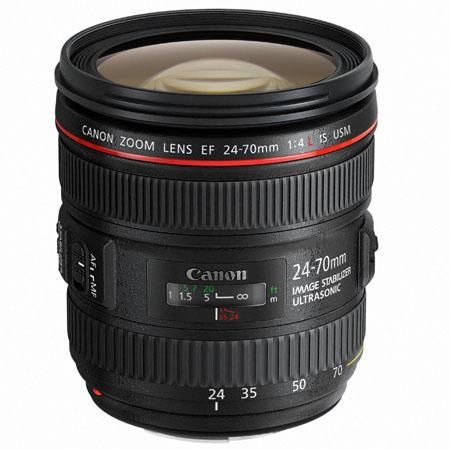 The Canon EF 24-70mm f/4L IS USM (price & specs) is about to become a highly popular lens, at least this is the impression if you look at the many EF 24-70mm f/4L IS USM reviews that are published. The latest comes from slrgear. Some excerpts from their review:
The 24-70mm […] offers sharp results, but is also the subject of some controversy for its performance at 50mm. We tested three copies of this lens; the first and second had poor performance at the 50mm setting.
Stopping down the lens does improve its sharpness: corner softness is never completely removed to provide tack-sharp results from corner to corner on full-frame, but it is dramatically reduced. Peak performance is shown at ƒ/8 across all focal lengths
Results for chromatic aberration with the 24-70mm ƒ/4L were good: overall, CA is kept under control through the majority of the frame
On APS-C sensors corner shading is not an issue, but on full-frame: the lens creates images with corners that are significantly darker than the center. In the worst case, 24mm at ƒ/4, the extreme corners are a full stop darker than the center
[…] testing for distortion shows a complicated pattern with a point of near-zero distortion.
Going from infinity to close-focus takes well less than one second, and point-to-point focusing is lightning quick
the lens offers an impressive 0.7x magnification [for macro]. There is also some slight fine-tuning adjustment available for zoom and focus in the macro setting
As you have seen, they are nor very satisfied with the performance at 50mm (sharpness-wise). Moreover, they found inconsistencies among copies of the lens (not good Canon!). It is hence wise to test the lens at 50mm before buying it. The issues at 50mm reflect also in the conclusion:
Canon made a smart decision to offer a lower-priced alternative to its 24-70mm ƒ/2.8, in order to give Canon shooters of the more casual or economical nature a way to stay true to the brand name. Unfortunately the lens' performance at 50mm stands out as unacceptable, especially when you consider [it] still costs $1,500. […] So what is a Canon shooter to do? If you're happy with the performance you see from our sample pictures, and you need or want the image stabilization and macro capabilities of the 24-70mm ƒ/4, then you should be happy with your purchase – assuming you get as good a copy as we did […]
There is always the alternative to go for the good old Canon EF 24-105mm f/4L IS USM (price & specs), which offers a wider range and the same specs as the 24-70mm. And the 24-105mm is known not only to be a lens of proven quality, but also to have consistent optical performance.
Canon EF 24-70mm f/4L IS USM price check: B&H Photo, Adorama, Amazon USA, Amazon CA, KEH Camera, Canon CA, Canon USA Canon EF 24-105mm f/4L IS USM price check: B&H Photo, Adorama, Amazon USA, Amazon CA, KEH Camera, Canon CA, Canon USA
[via slrgear]