Canon EF 35mm f/1.4 II DxOMarked, scores better than Zeiss Distagon T 35mm f/1.4 but not better than Sigma 35mm f/1.4 DG HSM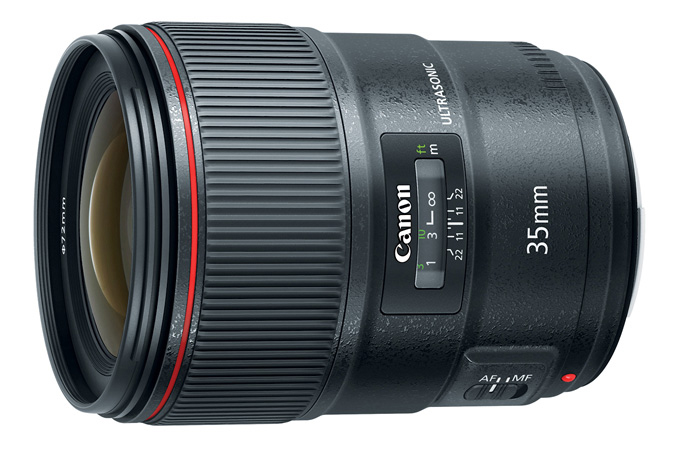 DxOMark posted laboratory results for the new Canon EF 35mm f/1.4 II lens. The EF 35mm f/1.4 II scores better (score 33) than the Zeiss Distagon T 35mm f/1.4 (score 31), and one point less than the Sigma 35mm f/1.4 DG HSM Art lens (score 34). Now take in account that the Canon costs $1,799, the Zeiss is over $1,500, and the Sigma comes at $899. While a lab measure never tells the entire story, I have to say: Kudos Sigma!
From the conclusion:
With the introduction of high-resolution bodies such as the Canon EOS 5Ds and 5DsR, with their ability to highlight lens flaws, it comes as little surprise to see Canon roll out new versions of some of the older models in their line-up. The original 35mm f/1.4 wasn't a bad performer, but it was beginning to show its age. The new model greatly surpasses the original in several key areas. It is generally sharper, but it's the improvement in geometry and uniformity that really impresses. Not only does it have low field curvature and astigmatism, but Canon has also dramatically lowered lateral chromatic aberration, with the overall effect of greatly improving imaging performance in the outer field Read the review at DxOMark.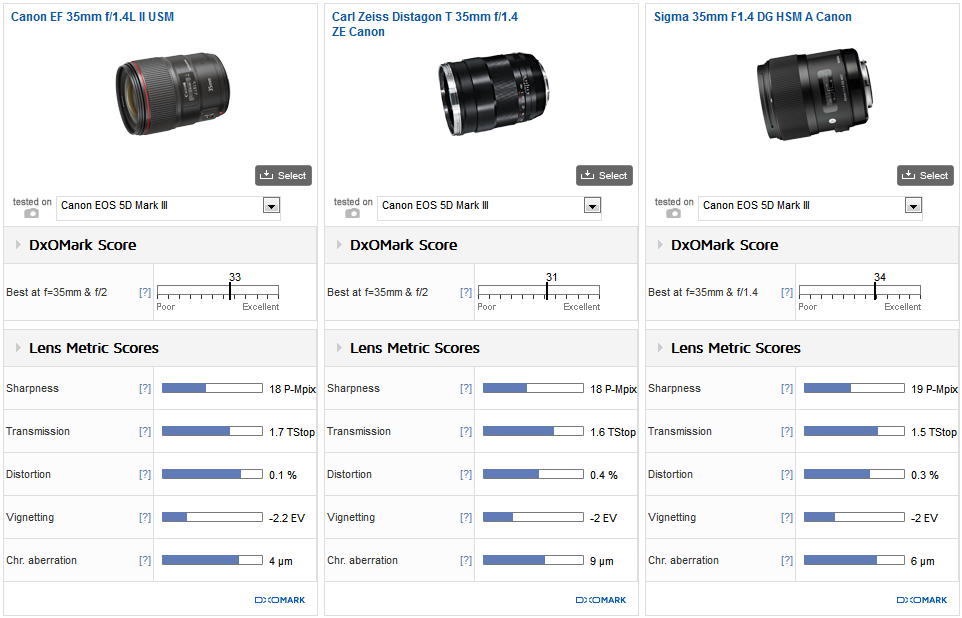 The EF 35mm f/1.4 II features Blue Spectrum Refractive Optics, an optical technology that allows for very high levels of chromatic aberration correction, and it is in stock at all major resellers at $1,799: B&H Photo | Adorama | Amazon.
Canon EF 35mm f/1.4 II key features:
EF Mount L-Series Lens/Full-Frame Format
Aperture Range: f/1.4-22
Blue Spectrum Refractive Optics
Two Aspherical Elements, One UD Element
Subwavelength and Fluorine Coatings
Ultrasonic Autofocus Motor
Full-Time Manual Focus Override
Weather-Sealed Design
Rounded 9-Blade Diaphragm
Canon EF 35mm f/1,4 II overview after the break.
The EF 35mm f/1.4L II USM from Canon is an L-series prime wide-angle lens featuring Blue Spectrum Refractive Optics and a maximum aperture of f/1.4, making it ideal for shooting in low-light situations and for controlling depth of field. Two aspherical elements and one Ultra Low Dispersion (UD) element combine with the BR element to control chromatic aberrations and color fringing for increased clarity and sharpness. A Subwavelength Coating has also been applied to reduce ghosting and lens flare for greater color accuracy and contrast. The Ultrasonic autofocus motor (USM) provides fast and near-silent AF operation. Full time manual focus override enables precise manual focus even when in AF mode.
Prime wide-angle lens is designed for full-frame Canon EOS DSLRs, and can also be used with APS-C-sized sensors where it will provide a 56mm equivalent focal length.
The Blue Spectrum Refractive Optics element refracts shorter wavelengths of the visible spectrum (blue light) in order to significantly reduce chromatic aberrations and color fringing.
A pair of aspherical elements and one UD element also help to control aberrations and distortions for sharper, clearer image quality.
Subwavelength Coating minimizes surface reflections, ghosting, and flare for increased contrast and color fidelity.
The Ultrasonic Motor offers fast and quiet autofocus performance and also permits full-time manual focus control by simply rotating the focusing ring.
A minimum focus distance of 11″ with a 0.21x maximum magnification benefits working with close-up subjects.
Fluorine coatings on the front and rear surfaces help reduce fingerprints and smudging.
Featuring the L-series designation, this lens is also dust and moisture-resistant for use in trying conditions.
A nine-blade aperture provides smooth and pleasing out-of-focus areas in selective focus images.