Canon EF 50mm f/1.8 STM lens officially introduced (and available for pre-order)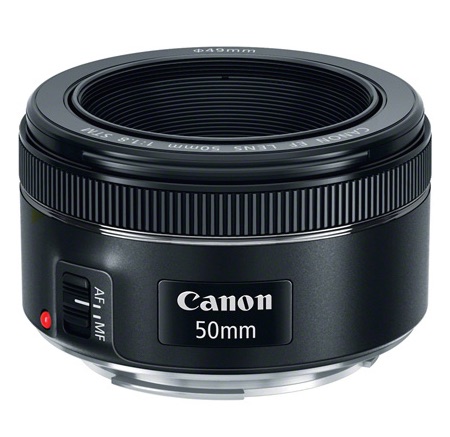 Canon's new EF 50mm f/1.8 STM lens is official. The new Canon EF 50mm f/1.8mm STM standard prime lens is scheduled to be available by the end of May for an estimated retail price of $125.99. Pre-orders are available: B&H Photo | Adorama.
Compact and Lightweight EF Lens Features Stepping Motor (STM) Technology and is Ideal for First time DSLR Users as well as Advanced Amateur Photographers
MELVILLE, N.Y., May 11, 2015 – Canon U.S.A., a leader in digital imaging solutions, is proud to announce the new lightweight and compact Canon EF 50mm f/1.8 STM standard lens. Featuring a large maximum aperture of f/1.8, this single focal length lens (which has an effective focal length of 80mm when attached to an EOS camera with an APS-C sensor such as the EOS Rebel T6i) is ideal for creating portraits with beautiful, soft-blurred backgrounds. It's also ideal for low-light photography and night scenes. Now incorporating Canon's proprietary STM stepping motor technology, this new lens supports Canon's EOS Movie Servo AF* (autofocus) function to provide smooth and quiet continuous AF during video recording, as well as when capturing still photos.
"Canon's optical heritage of creating high-quality lenses is something we are very proud of ," said Yuichi Ishizuka, president and COO of Canon U.S.A., Inc. "Regardless of skill level or budget, all photographers and videographers should have access to superb creative tools that enable them to capture not only beautiful images but images that tell the story of their lives. This new Canon EF 50mm f/1.8 STM lens, will provide photographers and videographers with outstanding images they will want to share for years to come."
The new Canon EF 50mm f/1.8mm STM lens is excellent for entry-level and advanced amateur photographers, as well as users looking to capture video. Featuring an improved exterior design, including a new focus ring placement, it provides photographers with the most compact Canon EF 50mm lens ever, at just 1.5 inches in length. In addition, this new lens uses a metal mount providing additional stability and ruggedness compared to its predecessor.
Composed of six elements in five groups, the new Canon EF 50mm f/1.8mm STM lens features an optimized lens placement and Super Spectra Coating (SSC), translating into less ghosting and flaring than the previous model, while at the same time helping to enhance light transmission and optimize color reproduction accuracy. The new lens features a seven blade circular aperture, improved from the predecessor's five blade non-circular aperture, helping to deliver a more visually appealing blurring effect, and producing sharp images of subjects that truly stand out against beautiful, soft backgrounds. The minimum focusing distance for the lens has been shortened to 1.1 feet from 1.5 feet with a maximum magnification of 0.21x, allowing for more creative close-up photos and videos.
Pricing and Availability
The new Canon EF 50mm f/1.8mm STM standard prime lens is scheduled to be available by the end of May for an estimated retail price of $125.99. For more information please visit http://www.usa.canon.com/cusa/consumer/products/cameras/ef_lens_lineup/ef_50mm_f_1_8_stm
Canon EF 50mm f/1.8 STM Standard Telephoto Prime Lens Specifications Summary: 
Compact, lightweight, fixed focal length standard lens for EOS cameras
Large f/1.8 maximum aperture
80mm effective focal length when attached to EOS cameras with APS-C sensors
Canon STM gear type stepping motor technology provides quiet autofocusing to support Canon's EOS Movie Servo AF function
Improved exterior design including new focus ring placement makes it the most compact Canon EF 50mm lens ever
New metal mount for stability and ruggedness
Super Spectra Coating for minimized ghosting and flaring
Circular seven blade aperture
14-inch minimum focusing distance
0.21x maximum magnification
About Canon U.S.A., Inc.
Canon U.S.A., Inc., is a leading provider of consumer, business-to-business, and industrial digital imaging solutions to the United States and to Latin America and the Caribbean (excluding Mexico) markets. With approximately $31 billion in global revenue, its parent company, Canon Inc. (NYSE:CAJ), ranks third overall in U.S. patents granted in 2014† and is one of Fortune Magazine's World's Most Admired Companies in 2015. In 2014, Canon U.S.A. has received the PCMag.com Readers' Choice Award for Service and Reliability in the digital camera and printer categories for the 11th consecutive year. Canon U.S.A. is committed to the highest level of customer satisfaction and loyalty, providing 100 percent U.S.-based consumer service and support for all of the products it distributes. Canon U.S.A. is dedicated to its Kyosei philosophy of social and environmental responsibility. In 2014, the Canon Americas Headquarters secured LEED® Gold certification, a recognition for the design, construction, operations and maintenance of high-performance green buildings. To keep apprised of the latest news from Canon U.S.A., sign up for the Company's RSS news feed by visiting www.usa.canon.com/rssand follow us on Twitter @CanonUSA. For media inquiries, please contact [email protected].
###
† Based on weekly patent counts issued by United States Patent and Trademark Office.
All referenced product names, and other marks, are trademarks of their respective owners.
* When attached to a Canon EOS camera that supports Movie Servo AF.