Canon EOS-1D X on Sale for $5940
[shoplink 14295 ebay]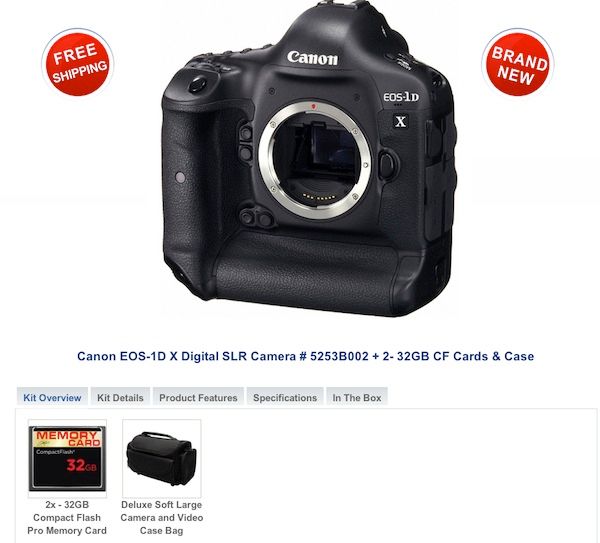 [/shoplink]
eBay seller 6ave (10330 ratings, 99.5% positivr) has the Canon EOS-1D X on sale for [shoplink 14295 ebay]$5,939.99 (click here)[/shoplink]. As bonus items you get two 32GB memory cards and a camera case. Forget the two no-name memory cards (not suited for a DSLR like the EOS-1D X), and go for the camera. Regular price is $6800.
Specs:
18.1Mp CMOS Sensor
Dual DIGIC 5+ Image Processors
3.2″ LCD Screen
Eye-Level Pentaprism Viewfinder
Dual CF Card Recording Media
Canon EF Lens Mount
Magnesium Alloy Body
1920 x 1080 HD Video Capture
Live View Still and Video Recording
61-Point High Density Auto Focus
Product Information
The rugged Canon EOS 1D X digital camera provides a wide variety of features suitable for even experienced photographers. With the magnesium alloy body, the black Canon camera body is resistant to dust and weather conditions. The well-balanced grip design on this 18.1 MP digital camera provides user comfort and reduces fatigue. Photographers can use the manual or autofocus on the Canon EOS 1D X digital camera to produce sharp, creative images. Because the 18.1 MP digital SLR camera also connects to the computer with an USB cable, it is easy to share photos or transfer them to print. This versatile Canon camera features a self-timer to allow the photographer to participate in group shots or take a self-portrait. Users can also provide narrative through an external microphone connected to the Canon camera. This 18.1 MP digital SLR camera body measures 15.8 cm wide, 16.36 cm high, and 8.27 cm deep, and it weighs 1.34 kg.
Product Features
18.1-megapixel full frame CMOS sensor
A Canon 18.1-megapixel full frame CMOS sensor delivers stunning performance, producing exceptional low noise, high-resolution images even in the darkest conditions. The full frame sensor delivers optimum results from wide-angle lenses and gives you greater control over depth of field. Image resolution exceeds the quality demanded by leading photo agencies – making it ideal for extra large prints, even after cropping.
Huge ISO range
An exceptionally wide ISO range means shooting need never stop from the brightest conditions right through to near darkness.
61 point AF system
A high-precision 61 point AF system, featuring 41 high sensitivity cross type sensors, delivers fast, accurate focusing of fast moving subjects – whatever the lighting conditions. The center 5 AF points are dual cross type for added precision.
Consistent, accurate metering
A 100,000 pixel RGB AE metering system with a dedicated DIGIC 4 processor measures not only brightness but also color to ensure highly accurate exposure for natural results even in complex lighting situations.
Full HD EOS movies
Shoot Full HD (1080p) video with a wide range of user selectable controls on a DSLR including exposure, frame rates, audio and compression control. An HDMI output allows high definition playback of footage and images.
Dual "DIGIC 5+" processors
Canon's dual "DIGIC 5+" processors deliver the fastest and most advanced image processing to date for best-in-class image quality. Working with 4 A/D converters to provide 14-bit image processing for smooth tonal gradations and natural looking coolers as well as advanced noise reduction at higher ISO speeds.
Large, anti-reflective LCD
A high-resolution 3.2″ Clear View II LCD screen, allows easy, accurate review of images and video. Superbly durable, an anti-reflective, hardened glass structure prevents reflections even in the brightest sunlight.
Ethernet port
A built in Ethernet port allows for fast, easy transfer of images directly to a PC or via a network to clients from live events.