Canon EOS 750D and EOS 760D Officially Announced (Rebel T6i and T6s)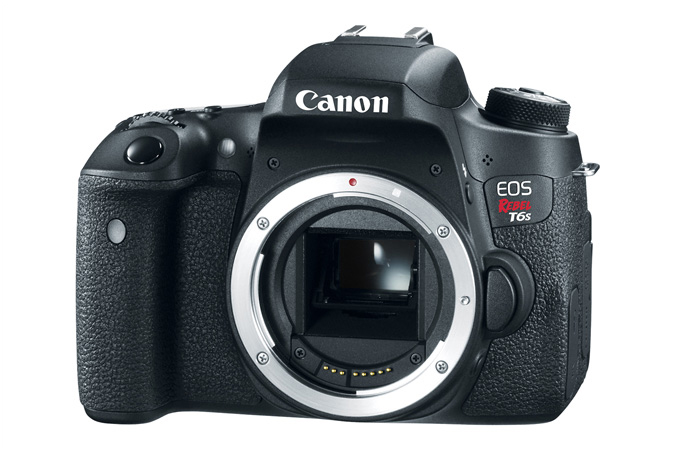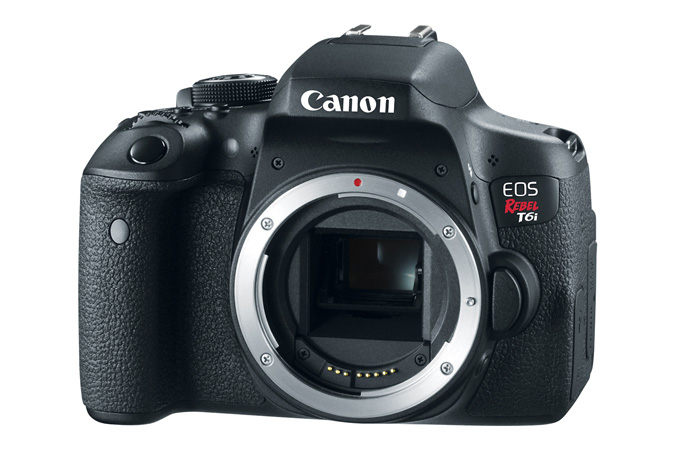 Pre-order links for today's Canon products:
Press release:
Canon U.S.A. Announces New EOS Rebel DSLR Cameras Featuring 24.2 Megapixels And Wireless Functionality
The new EOS Rebel T6s and EOS Rebel T6i1 DSLR cameras combine affordability with workhorse imaging features and functionality

MELVILLE, N.Y., February 5, 2015 – Canon U.S.A., Inc., a leader in digital imaging solutions, today announced the addition of two new DSLR cameras to its popular EOS Rebel lineup: the EOS Rebel T6s Digital SLR camera, and the EOS Rebel T6i Digital SLR camera. Featuring a newly developed 24.2 megapixel Canon CMOS imaging sensor, both cameras deliver the highest resolution available amongst EOS models with an APS-C format sensor. Additionally, the cameras feature built-in Wi-Fi® and NFC™ capabilities – a first for the Canon EOS Rebel system – making snapping and sharing high-quality, treasured images seamless.
"The Canon EOS Rebel series is one of the most popular lines of DSLR cameras on the market, and we are proud to continue to innovate and upgrade this line with features such as wireless connectivity and improved image capture capabilities," said Yuichi Ishizuka, president and COO, Canon U.S.A., Inc. "As the popularity of this line grows with consumers, we're excited to launch the EOS Rebel T6s as our new flagship camera in the Rebel line, as well as have another budget-conscious offering in the line with the Rebel T6i."
With multiple features most commonly found in advanced amateur cameras, the EOS Rebel T6s is designed for photography enthusiasts, or those who are already experienced with entry-level cameras who want to take high-quality photos and videos, and look for more advanced features and functions. For more casual photography needs, or for users looking to purchase their first DSLR camera, the EOS Rebel T6i camera prioritizes affordability, without sacrificing basic SLR performance attributes like quick shutter response, and compatibility with Canon's impressive line of interchangeable lenses and accessories.
Outstanding Image Capture Features
The new EOS Rebel cameras have an extensive ISO range of 100-12800 (expandable to 25600) to accommodate shooting situations ranging from bright sunny days at the beach to dimly lit indoor dance recitals. The high-performance DIGIC 6 image processor helps provide outstanding image quality and speed, so pictures are clear and sharp.
Building on the image capture functionality of their predecessors, the EOS Rebel T6s and EOS Rebel T6i cameras feature Canon's new Hybrid CMOS AF III image sensor-embedded autofocus system, which allows for high levels of speed and accuracy when capturing Full HD video or high-resolution photos in Live View. This is particularly useful when capturing children playing sports, or animals in the wild, when it's imperative to get the shot at the exact moment action is happening. Helping photographers capture those special moments, the cameras have high-speed continuous shooting up to five frames-per-second (fps). For photographers who prefer to compose their images through a viewfinder, the new EOS Rebel T6s and EOS Rebel T6i cameras have a 19-point all cross-type AF system that allows for superb autofocus, as well as focus area selection modes.
Brand-new to the EOS Rebel line, the cameras feature built-in wireless capabilities, which allow users to wirelessly transfer images and videos with ease to compatible smartphones and tablets through Canon's newly updated and free Camera Connect app.2 Images and videos can also be shared wirelessly to a wide range of popular social networking sites through Canon iMAGE GATEWAY. 3 The camera's built-in NFC (Near Field Communication)4 allows quick and simple pairing to a compatible Android device, or devices that support NFC like the new Canon Connect Station CS100 photo and video storage and sharing device. The built-in Wi-Fi functionality also allows users to wirelessly print their images to any compatible printer, like the PIXMA MG7520 or PIXMA iP8720.
With an intuitive design that allows for an optimal photographic experience, the new EOS Rebel cameras have a three-inch Vari-Angle Touch Screen Clear View LCD monitor with approximately 1,040,000 dots. This design enables flexible positioning for high or low framed shots, as well as clear viewing even when outdoors in the sunlight. Additionally, the cameras feature the latest version of Canon's EOS scene analysis system, which helps photographers capture beautiful images in a wider range of situations by detecting near-infrared light and flickering light sources. Also new to the entire EOS system, both models feature color tone detection, which helps ensure individuals in photographs are properly focused and/or exposed by adjusting both autofocus and exposure metering.
Full HD Video Capture
The EOS Rebel T6s and EOS Rebel T6i cameras feature EOS Movie mode which captures Full HD 1080p resolution video up to 30 fps in MP4 format for high quality shooting and easy movie sharing on select social networking sites. Manual exposure control, digital zoom and an external stereo microphone jack are provided for advanced users using the EOS Rebel T6s.
Expanded Creative Functionality
Allowing for full creative control, the new EOS Rebel cameras offer creative filters available as presets for photos and movies. These filters can be displayed in real time during Live View shooting, providing an easy way for users to enhance their creative work. Users can further expand their artistic abilities right from the camera with Creative Filters such as Fisheye Effect, Toy Camera Effect and Monochrome mode. Fisheye Effect gives images a panoramic look and feel, Toy Camera Effect adds a grainy look to soften photos, illustrating a vintage appearance and with Monochrome mode, photos can either have black-and-white, blue or sepia tones, to display a more classic appearance.
Advanced Features & Capabilities
For photographers who desire more advanced features, the EOS Rebel T6s is the first EOS Rebel class DSLR camera to feature a top LCD panel, Quick Control Dial, Horizontal Level and built-in HDR movie capabilities. The new camera is also the first model in the EOS Rebel series to feature Servo AF in Live View, allowing continuous tracking of moving subjects during burst mode shooting sequences.
Availability
The EOS Rebel T6s Digital SLR camera and EOS Rebel T6i Digital SLR camera are scheduled to be available at the end of April 2015. The estimated retail price of the EOS Rebel T6s is $849.99 for the body only, and $1,199.00 bundled with an EF-S 18-135 STM lens. The EOS Rebel T6i has an estimated retail price of $749.99 for the body only, $899.99 bundled with an EF-S 18-55 STM lens, and $1,099.00 bundled with an EF-S 18-135 STM lens.
For more information about the entire Canon EOS Rebel lineup, please visit www.usa.canon.com/eos.

DPReview's hands-on review. From their first impression:
Personally I'd spring for the pricier T6s. Although the core of its specification is the same as the cheaper Rebel, I like having an LCD display on the top, and I'm used to twin control dials from Canon's higher-end cameras. I don't shoot much video, but when I do it's mostly spontaneous 'grab shots' and I dislike fussing with manual focus.

Whatever your personal preferences, it's certainly true that on paper at least, both of these new Rebels are much more convincing competition for the likes of Nikon's new D5500 and an increasingly capable crop of sub-$1000 enthusiast mirrorless cameras. It remains to be seen whether the new Canon 24MP can match the excellent Sony 24MP sensor in the a6000 and Nikon D5500 in terms of dynamic range, but we'd expect it to be competitive in terms of detail capture and most likely high ISO performance, too. And assuming we're right about this, that's great news.
---
Come and See how German travel blogger and photographer Nina, from Smaracuja.de, uses the Canon EOS 760D DSLR to shoot and, using the camera's connectivity, share, her fabulous photographs with her followers.
About Canon U.S.A., Inc.
Canon U.S.A., Inc., is a leading provider of consumer, business-to-business, and industrial digital imaging solutions to the United States and to Latin America and the Caribbean (excluding Mexico) markets. With approximately $31 billion in global revenue, its parent company, Canon Inc. (NYSE:CAJ), ranks third overall in U.S. patents granted in 2014† and is one of Fortune Magazine's World's Most Admired Companies in 2014. In 2014, Canon U.S.A. has received the PCMag.com Readers' Choice Award for Service and Reliability in the digital camera and printer categories for the 11th consecutive year. Canon U.S.A. is committed to the highest level of customer satisfaction and loyalty, providing 100 percent U.S.-based consumer service and support for all of the products it distributes. Canon U.S.A. is dedicated to its Kyosei philosophy of social and environmental responsibility. In 2014, the Canon Americas Headquarters secured LEED® Gold certification, a recognition for the design, construction, operations and maintenance of high-performance green buildings. To keep apprised of the latest news from Canon U.S.A., sign up for the Company's RSS news feed by visiting www.usa.canon.com/rss and follow us on Twitter @CanonUSA. For media inquiries, please contact [email protected].
###
† Based on weekly patent counts issued by United States Patent and Trademark Office.
Specifications subject to change without notice.
All referenced product names, and other marks, are trademarks of their respective owners.
1 The EOS Rebel T6s Digital SLR camera, and the EOS Rebel T6i Digital SLR cameras have not been authorized as required by the rules of the Federal Communications Commission. This device is not, and may not be offered for sale or lease, or sold or leased, until authorization is obtained.
2 For Wi-Fi connectivity: Compatible with iOS versions 6.0/6.1/7.0/7.1/8.0/8.1, Android smartphone versions 2.3.3/4.0/4.1/4.2/4.3/4.4 and Android tablet versions 4.0/4.1/4.2/4.3/4.4. Data charges may apply. With the download of the free Canon Camera Connect app. This software helps enable you to upload images to social network services. Before uploading images, please be aware that image files may contain privacy-related information such as people and places. If necessary, please delete such information. Canon does not obtain, collect or use such images or any information included in such images through this software.
3 One-time registration is required on CANON iMAGE GATEWAY online photo album
4 For NFC connectivity: Compatible with Android devices version 4.0/4.1/4.2/4.3/4.4 and the Canon Connect Station CS100ii photo and video storage and sharing device.