Canon Germany promotion "10 wins", every 10 applications one winner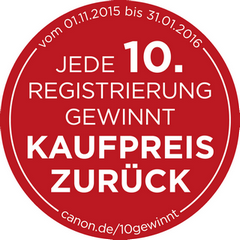 Canon Germany has an interesting Winter cash-back promotion, "10 gewinnt" (10 wins). Customers can apply to get back the entire price they paid for their Canon product. Canon states that one out of 10 applications will be a winner, so the chances are pretty high. You can also apply more than one time if you buy more than one Canon product.
Click here to check the offer. Many recent Canon products are eligible, click here to see them all. To see the original Canon Germany press text click here. Among the eligible products are the EOS 5D Mark III, EOS 750D/760D, EOS 7D Mark II, EOS M3, and more.
The offer expires 31/01/2016. Thanks Cheryll for the tip.