Canon Germany Starts Professional Imaging (ProIG) Roadshow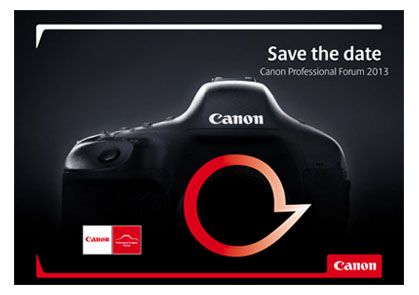 Canon Germany announced the upcoming Professional Imaging (ProIG) Roadshow, November 12-26. The roadshow will be held at 5 different spots in Germany:
12. November 2013:  Potsdam
14. November 2013:  Köln
19. November 2013:  Wörth am Main
21. November 2013:  München
26. November 2013:  Stuttgart
It addresses professional users as well as enthusiast photographers who are using Canon's high end gear. Registration here. A machine-translated excerpt from the press release:
KREFELD 28 October 2013. Canon today announces its upcoming Professional Imaging (ProIG) roadshow, Canon's Professional Forum, 2013, at. The ProIG Roadshow takes place from 12 to 26 November 2013 held at five different locations. It is aimed primarily at professional users in different market segments and dedicated amateurs who use high-end equipment. In addition to product demonstrations and live shoots and the entire ProIG portfolio is presented at a glance – from the professional cameras, the EOS-1D series, about XF camcorder, Cinema EOS, and broadcast to Pixma Pro printers, large format printers, projectors, network cameras and Reference 4K displays – the Canon Professional Forum provides an overview of all products and solutions around the topic of professional imaging. Services, such as the Dreamlabo finishing and the Canon Service Center Willich are on tour. There is a lot on offer – entry is free!
Canon Germany press release (translated):
KREFELD, 28. Oktober 2013. Canon kündigt heute seine bevorstehende Professional Imaging (ProIG) Roadshow, das Canon Professional Forum 2013, an. Die ProIG Roadshow findet vom 12. bis 26. November 2013 an fünf verschiedenen Orten statt. Sie richtet sich in erster Linie an professionelle Nutzer aus unterschiedlichsten Marksegmenten und an engagierte Amateure, die High End Equipment einsetzen. Neben Produktdemonstrationen und Live-Shootings wird auch das gesamte ProIG-Portfolio auf einen Blick präsentiert – angefangen von den professionellen Kameras der EOS-1D Serie, über XF Camcorder, Cinema EOS und Broadcast bis hin zu Pixma Pro Druckern, Großformatdruckern, Projektoren, Netzwerkkameras und 4K Referenz-Displays – das Canon Professional Forum gibt einen Überblick über alle Produkte und Lösungen rund um das Thema Professional Imaging. Auch Services wie das Dreamlabo finishing und das Canon Service Center Willich sind mit auf Tour. Es wird eine Menge geboten – der Eintritt ist frei!
Die Produktdemonstrationen und Vorträge werden von renommierten Fotografen wie Jörg Kyas (Live-Shootings) oder Calvin Hollywood (Best Of Photoshop) gehalten. Der Canon Ambassador Richard Walch berichtet über das Filmen in HD mit EOS sowie über das Filmen in 4K mit der EOS-1D C, wie er eindrucksvoll anhand von Live-Shootings zeigen wird.Von jeweils 13 -20 Uhr öffnet das Canon Professional Forum an folgenden Standorten seine Pforten. Ein Besuch lohnt sich.12. November 2013:  Potsdam
14. November 2013:  Köln
19. November 2013:  Wörth am Main
21. November 2013:  München
26. November 2013:  Stuttgart

Auch wichtige Partnerunternehmen der Foto- und Filmbranche sind mit ihren Produkten aus den Bereichen Zubehör, Produktion und Workflow vor Ort: Adobe, AJA, ARRI, Atomos, AV Stumpfl, EIZO, Globell/datacolor, Hartblei, Hensel, Phase One, Profoto, Schneider-Kreuznach, Wacom und Zeiss.

Weitere Informationen zu den Veranstaltungsorten und zur Anmeldung gibt es unter:
www.canon.de/professional_forum