Canon Hexa Pixel Auto-Focus patent (for light-field photography?)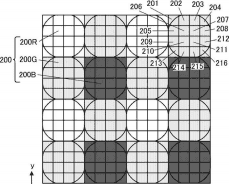 A pretty interesting patent. It appears Canon is working on the next generation of the technology introduced with the EOS 70D, i.e. Dual Pixel Auto-Focus. With a difference: this is Hexa Pixel Auto-Focus, and AF is obtained by plane phase difference of 16 sub-pixels. Not bad, eh? Might be the next game changing technology by Canon.

Moreover, and if I got the machine translated patent description right, this patent may be related to another Canon patent for a video camera featuring light-field technology. The patent also mentions AF microadjustment, but I am not sure I got it right: according to the patent literature, it seems to be a technology for automatic auto-focus microadjustment. As usual, given the hard to understand patent literature, any interpretative help is welcome.
Patent Publication No. 2015-121778

Published 2015.7.2

Filing date 2013.11.21

Canon patents

Image plane phase difference AF using 16 sub-pixels

Light field contrast AF that uses a

It does focus adjustment (Microadjustment) from the difference between the image plane phase difference AF and contrast AF
[via
Egami
]