Canon Launches Try and Buy Programme For Lenses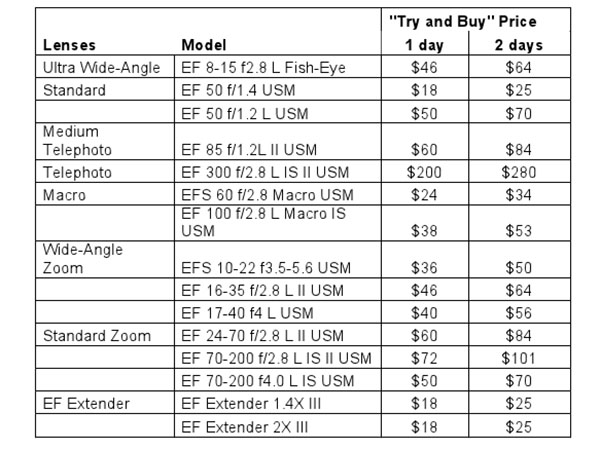 Canon announced this last week. I apologize that it got forgotten in the days of the announcement of Canon's new Rebel Sl1/EOS 100D (price & specs) and Rebel T5i/EOS 700D (price & specs).
Canon will start a lens rental service called "try and buy". There is also a homepage (http://www.canon.com.sg/lenstryandbuy) with all the information that is planned to go alive on March 28th.
Canon Singapore press release:
Singapore, 20 March 2013 – Canon is now allowing its DSLR users to try out popular Canon lenses before purchasing them in the newly launched Canon Lens "Try and Buy" Programme. The programme, which is the first of its kind in Singapore1 for a camera brand, will be starting from 28 March. For a nominal fee, interested users will get up to two full days to try out their lenses of choice.
"We believe in having our customers fully enjoy our products and technology, and our Canon Lens "Try and Buy" Programme will further enhance that product experience of our DSLR users by providing them with a platform to try out the more popular lenses before a purchase," said Mr. Andrew Koh, Senior Director and General Manager of the Consumer Imaging and Information Products Group, Canon Singapore.
The Canon Lens "Try and Buy" Programme is an initiative by the company to enable its DSLR users to try selected lenses for up to two days and make an informed decision before investing in the perfect lens to suit them. This programme will be extremely useful for users who are deciding between the different lenses in Canon's comprehensive range of more than 70 EF and EF-S lenses. While there is no obligation to make a purchase subsequently, Canon believes that this programme will also attract new users to its award-winning EOS photographic eco-system.
Canon Lens "Try and Buy" Programme
Canon DSLR users2 can borrow selected Canon lenses for up to two full days (Excluding pick-up and return dates).
At any one time, users can borrow a maximum of two lenses on a first-come-first-serve basis.
Participants of the programme who wish to own the lens model they have tried can enjoy a discount on the purchase of the extended warranty for the same lens model. The discount is equivalent to the nominal fee charged when they borrowed the lens.
All Canon Imaging Academy members who have enrolled themselves in any paid course/workshop within the last 12 months will receive a 50% discount off the nominal fee. Members who enrolled for future paid course/workshop will also get to enjoy 50% discount if they participate in the programme within 12 months from the start date of their course/workshop.
Registration and membership for this programme is free.
Lenses can be collected and returned at the Canon Imaging Academy, Canon's training facility (Located at 1 HarbourFront Place, #01-09, HarbourFront Tower 1, Singapore 098633).
The programme will be administered directly by Canon Singapore while the sale of lenses will continue to be through Canon's authorised dealers.
For full details including terms and condition of the programme, please visit the Canon Lens "Try and Buy" website www.canon.com.sg/lenstryandbuy (Website targets to be up on 28 March). Users can also go to the website for more information such as the most popular lenses borrowed, the most viewed lenses, and new lenses included in the programme.
About Canon Singapore Pte Ltd
Canon is a global leader in photographic and digital imaging solutions. Canon Singapore Pte Ltd is the headquarters for South & Southeast Asia driving sales, marketing and service strategies. Besides handling the domestic market, the company leads 18 other countries including subsidiaries in India, Malaysia, Thailand and a representative office in Vietnam. The parent company Canon Inc. has a global network of more than 200 companies and employs more than 160,000 people worldwide. It is dedicated to the advancement in technology and innovation and commits about 10% of its total revenue each year to R&D. Canon is consistently one of the top few companies to earn the most number of patents over the last 18 years. As a Fortune Global 500 company, Canon is guided by its kyosei philosophy that focuses on living and working together for the common good.
More information is available at www.canon.com.sg
1 As of 20 March 2013
2Applicable only to Singaporeans, permanent residents (PRs), and work permit or student visa holders in Singapore.
[
c|net
via
PetaPixel
]