Canon Patent for 11-24mm f/3.5-4.5 Lens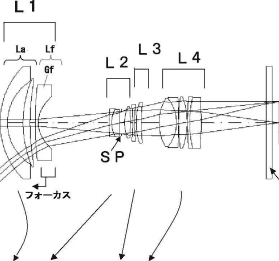 Egami (translated) spotted a patent filed by Canon for an 11-24mm f/3.5-4.5 lens.
Machine translated patent description:
Patent publication number

Example 3

Zoom ratio 2.07

Focal length 11.61-15.50-24.07mm

Fno. 3.63-3.96-4.69

Half angle ω = 49.64-41.38-29.58 °

Image height Y = 13.66mm

Overall length of the lens 133.0-129.1-133.3mm

BF 3.26mm

Negative positive and negative positive 4-group zoom

Inner focus (Lf part of the first group)

[0016]

According to the present invention has a high optical performance over the entire object distance range, yet fast focusing easy zoom lens and optical system is obtained.

[0035]

And at the same time using a low dispersion material in the material of the focus lens in the present invention, the lateral magnification of the focusing lens unit that corresponds to the drive amount during focusing, by appropriately setting the refractive index and Abbe number of the material and the like of the focus lens, and focus I have to reduce the aberration fluctuations of the time.