Canon Patent For 1.4x Extender (Updated)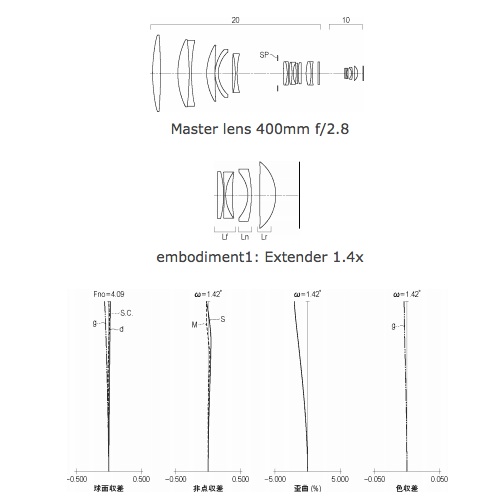 I made a big mistake reading the patent. Thanks to DicaHub I can correct it. The patent is not for a 400mm lens with built-in extender, but for a 1.4x extender for lenses that do not support contrast AF. With such lenses a "wobbling" effect can appear when shooting video. The patent refers to an extender with movable elements to suppress the "wobbling" effect.
Egami (translated) spotted another patent filed by Canon, this time for a 400mm lens with built-in 1.4x extender.
Patent Publication No. 2014-115410

Publication date 2014.6.26
Filing date 2012.12.7

Master lens

Focal length f = 390.09mm
Fno. 2.90
Half angle ω = 2.01 °
Image height Y = 13.66mm
The overall length of the lens 367.66mm
BF 44.00mm
15 pieces of 11-group lens configuration
Two fluorite

Example 1

Focal length f =-226.69mm
1.41x magnification
Five 4-group lens configuration
One piece of one sided aspherical