Canon Patent For 70-400mm f/4.5-7.2 STM Lens For EOS M System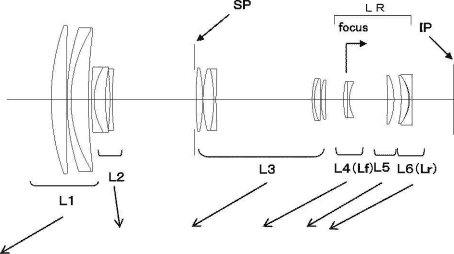 Another patent for an EF-M lens that could go to market sooner or later. The fact that Canon is filing patents for EF-M lenses is a sign they are still committed to the system.
Egami (translated) spotted the patent. It's a 70-400mm f/4.5-7.2 STM telephoto lens for APS-C mirrorless cameras, in the Canon world that's the EOS M system (rumored to see a new entry soon).
Such a telephoto lens would allow Canon to catch up with the competition. All major mirrorless system manufacturer have telephoto lenses with similar range in offering. However, note that the patent does not refer to image stabilisation on the lens. Could be pretty difficult to shot shake-free at full extension and while hand-holding the camera.
Patent Publication No. 2014-228734

Published 2014.12.8

Filing date 2013.5.23

Example 3

Zoom ratio 5.58

The focal length f = 69.59-251.52-388.00mm

Fno. 4.68-6.30-7.00

Half angle ω = 11.11-3.11-2.02 °

Image height 13.66mm

Overall length of the lens 155.01-227.97-240.02mm

BF 15.81-37.15-46.87mm

Inner focus
[via 
Egami
]