Canon Patent for EF-S 9-18mm f/4.5-5.6 Lens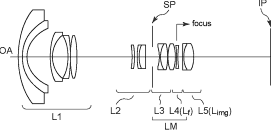 Egami (translated) spotted a patent filed by Canon for a 9-18mm f/4.5-5.6 IS STM lens for APS-C cameras. The lens design looks similar to the recently announced EF-S 10-18mm f/4.5-5.6 IS STM.
Patent Publication No. 2014-225002

Published 2014.12.4

Filing date 2013.4.25

Canon patent

4-group configuration of negative positive and negative positive

Inner focus

And a plastic aspherical first lens group

[0013] 

According to the present invention, the change in imaging magnification upon focusing on less, high speed focusing is obtained zoom lens easy wide angle.