Canon patent for illuminated rear buttons on camera body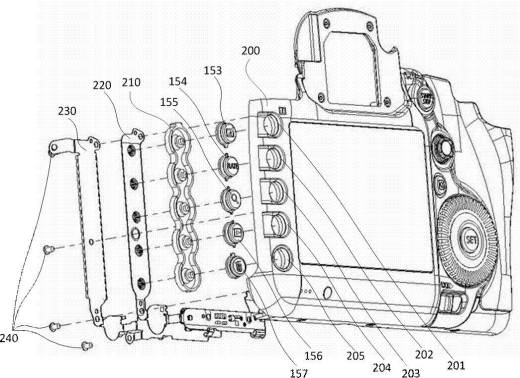 Interesting patent that already started speculations.
Patent JP2017-147019A (which can be seen here in its entirety) refers to illuminated buttons on the rear of a Canon camera body (a DSLR, typically).
This is something Nikon already has: illuminated rear buttons. This lead someone to the speculation that the EOS 7D Mark III may have these buttons. While possible, there are no hints it will. So far we have to deal with wishful thinking and not with a rumor.
The patent's abstract:
To provide a light emission button mechanism that enables a letter or character on the surface of a button to emit light uniformly with a simple configuration without providing any dedicated separate member for light guiding and light shielding, and can prevent light leakage to the inside and outside of the device.
SOLUTION: A light emission button mechanism includes an operation portion having a light guide portion that transmits light, an exterior cover having a hole through which the operation portion is inserted, a switch unit having a movable unit which is elastically deformed by pressing the operation unit, and a contact unit which is to operate by further pressing the operation unit, light emitting mans which is arranged in a substantially sealed space formed by the operation unit and the switch unit and causes the light guide portion to emit light, and a conductive pattern connected to the light emitting means and formed in the switch unit, and at least the conductive pattern formed in the movable portion out of the conductive patterns is not linear.