Canon Patent for Mixed Metal and Resin Mount (less weight, less abrasion)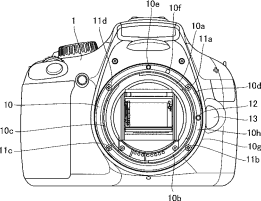 Egami (translated) spotted a patent for a DSLR mount made of metal and resin. The metal part is the "inner part" of the mount, the "resin part" the outer part. The advantages are lower weight and lower abrasion. Another advantage could consist in smoother mounting/unmounting of lenses, with less abrasion of the lens-side part of the mount, since high quality resin is more abrasion resistent than metal. Be aware that when talking about resins we are not talking about mere plastic.
Canon patent

Of bayonet mechanism mount

Mounting an inner peripheral portion of the body has a concave rail surfaces of metal

Mount the outer periphery of having a rail surface of the convex shape in the resin

That resin rail than the metal rail, I have a narrow width and high height
More from the machine translated patent description:
If a metallic material is used for the construction material of camera mount, the strength of mount will be secured, but if attachment and detachment of a taking lens (lens device) are repeated, a mount surface will be worn out and appearance grace will be spoiled by the abrasion. Wear becomes a cause, the slidability of a mount surface is deteriorated, attachment-and-detachment torque becomes high, and an operation feeling becomes less good. In order to secure the abrasion resistance of mount, and slidability, when a resin material is used as construction material of the whole mount, as compared with the case where a metallic material is used, strength is weak.
and
In order to compensate the characteristic of a metallic material and resin mutually, the mount which molded metal and resin integrally is proposed. The Patent[shows a] mount of composition of having the mount main part which constituted the mount surface from a synthetic resin excellent in abrasion resistance and a sliding feel, and a metal ring component for reinforcing this mount main part.
[via 
Egami
]