Canon Patent For New 16-35mm and 17-40mm Lenses (?)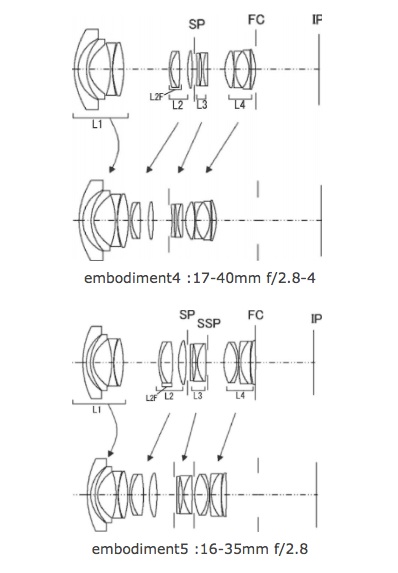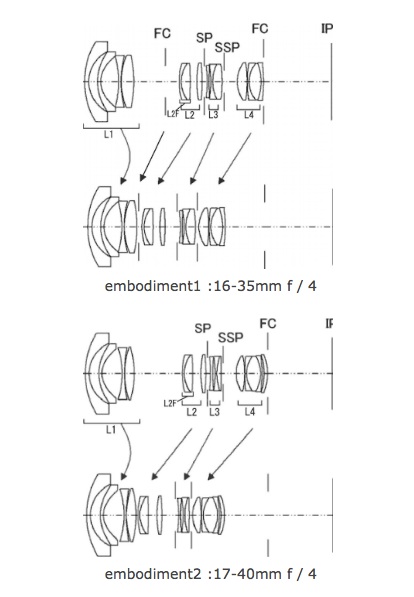 Egami (translated) spotted some interesting patents filed by Canon.
The patent refers to new 17-40mm and 16-35mm lenses, as you can see with apertures between f/2.8 and f/4. Are these patents for the replacements of the EF 16-35mm f/2.8L II USM and the highly popular Canon EF 17-40mm f/4L USM lenses? These two lenses were measured by DxOMark a few weeks ago.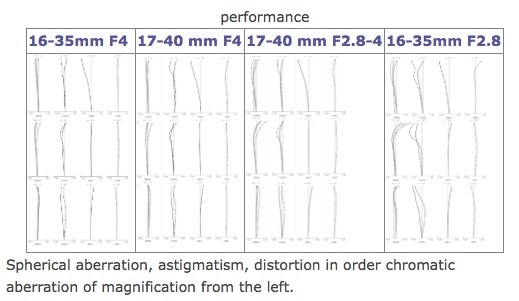 Patent Publication No. 2014-41245

Publication date 2014.3.6
Filing date 2012.8.22

Example 1

Focal length f = 16.49-23.55-33.95mm
Fno. 4.10
Half angle ω = 52.68-42.57-32.51 °
14 pieces of 10-group lens configuration

Example 2

Focal length f = 17.50-25.45-38.90mm
Fno. 4.10
Half angle ω = 51.03-40.36-29.08 °
15 pieces of 11-group lens configuration

Example 4

Focal length f = 17.50-24.82-38.89mm
Fno. 2.88-3.25-4.10
Half angle ω = 51.02-41.08-29.09 °
15 pieces of 11-group lens configuration

Example 5

Focal length f = 16.50-25.34-34.00mm
Fno. 2.91
Half angle ω = 52.66-40.49-32.47 °
15 pieces of 11-group lens configuration

Canon patents

4-group zoom of positive and negative positive negative
Inner focus