Canon PowerShot G9 X Mark II press text leaked ahead of announcement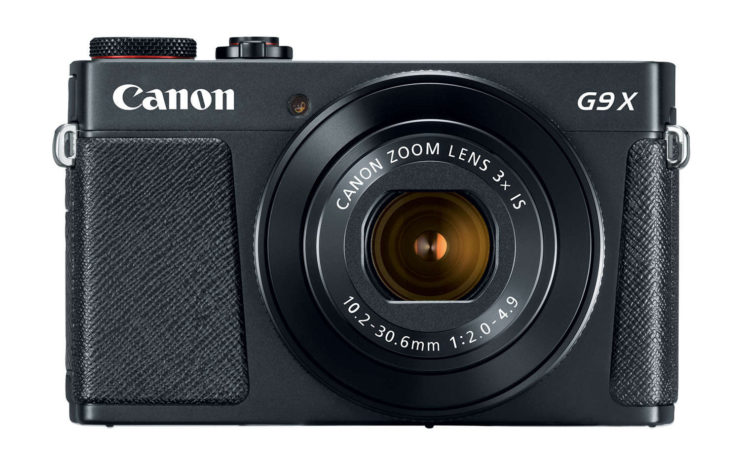 Canon posted and then removed the press text for the Canon Powershot G9 X Mark II, and for other gear. The press release was removed but you can still see it via Google cache.
Canon press release:
Canon Proclaims "Visionaries Welcome" at the 2017 CES Show
Canon Announces PowerShot G9 X Mark II Digital Camera, PowerShot G7 X Mark II Video Creator Kit and Updated VIXIA HF-R Series Camcorders
MELVILLE, N.Y., January 3, 2016 – At this year's Consumer Electronics Show (CES) in Las Vegas, NV, January 5-8, Canon U.S.A., Inc., a leader in digital imaging solutions, is excited to debut its Visionaries Welcome" themed booth (Booth #16206 in the Central Hall), demonstrating the Company's continued path of innovation and helping others "See Impossible." Canon is also announcing a host of new travel-friendly imaging products. Included in this announcement is the slim and lightweight, carry-anywhere PowerShot G9 X Mark II digital camera, the PowerShot G7 X Mark II Video Creator Kit, ideal for the vlogger on-the-go, and three updated models to the line of family-friendly VIXIA HF R-series personal camcorders.
"Beyond product introductions, this year we're taking things at CES to a new level, declaring 'Visionaries Welcome' – inviting potential companies to learn what can be possible by incorporating Canon technologies and innovations into their designs," said Eliott Peck, executive vice president and general manager, Imaging Technologies and Communications Group, Canon U.S.A., Inc. and chairman & CEO, Canon Information Technology Services, Inc. "We are always looking to bring to market products designed to meet the ever-changing needs of our customers. Whether someone is looking for the latest and greatest in a compact premium camera to document precious family moments or taking the plunge into vlogging with a creative, professional look, we have the right solution for them."
Canon Proclaims "Visionaries Welcome"
The Canon booth at CES 2017 will look quite different this year – designed to invite future-thinkers; visitors will learn about a broader vision of what is possible with Canon innovations. On display will be products developed by current Canon customers such as Solidiphy, FoxTales, StyleShoots and Card Isle, that incorporate Canon technology and innovation to create products that are not just commercially successful but also cultivate a larger vision of what is possible when integrating Canon products. Offering our depth of 80 years of experience and leadership, a reputation for world-class U.S.-based customer service and support, and R&D capabilities, Canon is looking to expand collaborations with manufacturing companies as well as entrepreneurs to deliver visionary ideas and solutions well into the future.
Also on display will be Canon's current imaging products across the EOS, PowerShot, VIXIA, PIXMA, imagePROGRAF and imageCLASS product lines.
PowerShot G9 X Mark II Digital Camera
For those looking to make a step up to a premium point-and-shoot camera, the Canon PowerShot G9 X Mark II features a 1.0- inch 20.2 Megapixel sensor and packs a lot of punch in a very small package. It also features the latest image processor, DIGIC 7, providing users with improved subject tracking and scene detection, and more. For added social network-sharing convenience the PowerShot G9 X Mark II is the first Canon PowerShot digital camera equipped with Bluetooth®1 Smart for easy pairing with a compatible smartphone or tablet. Photographers of all skill levels looking for more "pro-like" features will appreciate the in-camera RAW conversion feature and improved Time-Lapse Movie Mode to help capture images at preset intervals and combine them to create a short movie clip.
PowerShot G9 X Mark II Camera Features include:
1.0-inch, 20.2 Megapixel2 High-Sensitivity CMOS sensor
DIGIC 7 Image Processor
Built-in Wi-Fi®3 and NFC4 and Bluetooth®1 Smart capability
Bright f/2.0 (W) – f/4.9 (T), 3x Optical Zoom Lens (28-84mm)
3.0" Touch Panel LCD
Full HD, Dynamic IS and Time-Lapse Movie video functions
Continuous shooting speeds of up to 8.2 fps (In JPEG and RAW)
The Canon PowerShot G9 X Mark II digital camera is scheduled to be available February 2017 for an estimated retail price of $529.99.
PowerShot G7 X Mark II Video Creator Kit 
For those up-and-coming filmmakers, social influencers and vloggers, Canon is excited to announce a compact, mobile and on-the-go solution for their social sharing needs — the Canon PowerShot G7 X Mark II Video Creator Kit. The kit includes the PowerShot G7 X Mark II digital camera with an additional back-up battery, a Manfrotto PIXI tripod, and a 32GB San Disk SD card.
The Canon PowerShot G7 X Mark II Video Creator Kit is available for pre-order at the Canon Online Store (shop.usa.canon.com) and is scheduled to start shipping in February 2017 for an estimated retail price of $749.99.
VIXIA HF R82, R80 and R800 Personal Camcorders 
Updated for 2017, these three new VIXIA HF R-Series personal camcorders ideal for families who want to document life's precious moments. Each model is equipped with a 57x Advanced Zoom, SuperRange Optical Image Stabilizer, a 3.28 Megapixel Full HD CMOS Canon Image Sensor, DIGIC DV4 Image Processor, and a 3.0-inch capacitive touch panel LCD. The VIXIA HF R82 camcorder offers 32GB of internal storage for recording up to 12 hours of video and the VIXIA HF R80 camcorder offers 16GB of internal storage for recording up to 6 hours of video. All of the VIXIA HF R-Series camcorders allow for recording to a removable SD card. New features for these 2017 models include Flexible Slow and Fast motion recording, backlight correction when in Highlight Priority mode and support for the Canon Camera Connect App 3.
VIXIA HF R82, R80 and HF R800 Features include:
MP4 1080p/60p Recording
Lightweight, portable body
High-capacity BP-727 battery pack
HF R82 and HF R80 feature built-in Wi-Fi® and NFC3 capability
Live Streaming feature
Zoom Framing Assist setting
File Lock Function
Built-in Down conversion
Compatible with optional Camera Pan Table CT-V1
The VIXIA HF R82, VIXIA HF R80, and VIXIA HF R800 camcorders are scheduled to be available in February 2017 for estimated retail prices of $449.99, $399.99, and $299.99, respectively.
To learn more about the "Visionaries Welcome" message and Canon digital imaging products please visit Canon at 2017 CES Show at Booth #16206 in the Central Hall for a first-hand look at Canon's latest products and new business initiatives. Follow Canon throughout the show on Instagram at @CanonUSA and Twitter at @CanonUSAimaging. Use #CanonCES to join the conversation.
About Canon U.S.A., Inc.
Canon U.S.A., Inc., is a leading provider of consumer, business-to-business, and industrial digital imaging solutions to the United States and to Latin America and the Caribbean (excluding Mexico) markets. With approximately $31 billion in global revenue, its parent company, Canon Inc. (NYSE:CAJ), ranks third overall in U.S. patents granted in 2015† and is one of Fortune Magazine's World's Most Admired Companies in 2016. Canon U.S.A. is committed to the highest level of customer satisfaction and loyalty, providing 100 percent U.S.-based consumer service and support for all of the products it distributes. Canon U.S.A. is dedicated to its Kyosei philosophy of social and environmental responsibility. In 2014, the Canon Americas Headquarters secured LEED® Gold certification, a recognition for the design, construction, operations and maintenance of high-performance green buildings. To keep apprised of the latest news from Canon U.S.A., sign up for the Company's RSS news feed by visiting www.usa.canon.com/rss and follow us on Twitter @CanonUSA. For media inquiries, please contact [email protected].
#  #  #
†Based on weekly patent counts issued by United States Patent and Trademark Office.
Availability, prices and specifications are subject to change without notice. Actual prices are set by individual dealers and may vary.
1Compatible with select smartphone and tablet devices (AndroidTM version 5.0 or later and the following iOS® devices: iPhone 4s or later, iPad 3rd gen. or later, iPod Touch 5th gen. or later) equipped with Bluetooth® version 4.0 or later and the Camera Connect App Ver. 1.3.20 or above. This application is not guaranteed to operate on all listed devices, even if minimum requirements are met.
2 Image processing may cause a decrease in number of pixels.
3Compatible with iOS versions 7.1/8.4, Android smartphone versions 2.3.3/4.0/4.1/4.2/4.3/4.4/5.0/5.1 and Android tablet versions 4.0/4.1/4.2/4.3/4.4/5.0/5.1. Data charges may apply with the download of the free Canon Camera Connect app. This app helps enable you to upload images to social media services. Please note that image files may contain personally identifiable information that may implicate privacy laws. Canon disclaims and has no responsibility for your use of such images. Canon does not obtain, collect or use such images or any information included in such images through this app.
4 Compatible with Android™ smartphone and tablet versions 4.0/4.1/4.2/4.3/4.4/5.0/5.1/6.0.