Canon Presents Its Own AI-based Image Processing Technology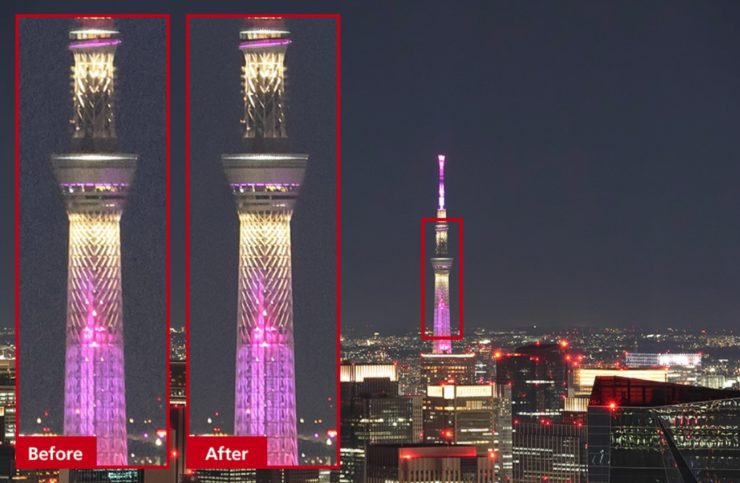 I guess it was just matter of time before Canon would also release or at least announce some photo editing tool based on artificial intelligence.
Canon presents a deep-learning neural network for image processing. Canon's motivation (machine translated):
[there might be] unavoidable problems with the image quality of the photos. For example, noise that makes a photo look grainy, moiré that makes a moire pattern that should not exist, and blurring of an image caused by the principle of a lens. There were times when information was reflected. When a wide-angle lens is used, the image quality in the peripheral areas off the center of the lens tends to be blurred due to the deterioration of the optical performance of the lens.

As AI technology advances and deep learning technology is being applied in a variety of ways, Canon, as a leading company with extensive knowledge of cameras and lenses, is committed to the inevitability of the principle of photography. In order to solve this problem, he directly tackled the development of deep learning image processing technology himself.
So, how does Canon's AI technology work?
Canon's deep-learning image processing technology, aimed at achieving true-to-life photography, covers three areas: noise reduction, color interpolation, and aberration diffraction correction (lens blur correction). Both areas have so far been regarded as problems in principle.

In the first place, the key to achieving high accuracy in the results of deep learning image processing technology is how many pairs of "teacher images" and "student images" (=learning data) can be prepared. Canon has a huge image database that has been accumulated through the development of cameras and lenses so far, covering all imaginable subjects, and storing RAW data with more detailed information such as JPEG. increase. In addition, we were able to collect a large amount of ideal training data using the camera manufacturer's unique know-how, which is well-versed in how camera settings affect image quality.
Curious? Then have a look here (it's machine translated but well understandable).