Canon Professional Network Europe Starts Promotion Page (and offers €1000 cashback to start)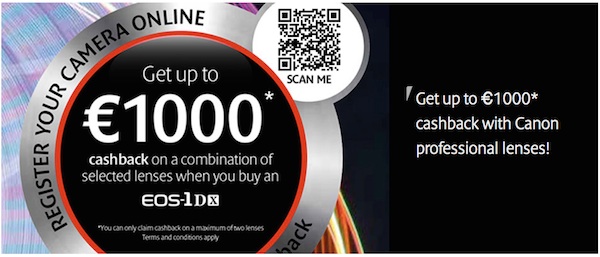 Canon Professional Network Europe started a page where they "occasionally post details of superb new promotions". You can save big money when you buy a Canon EOS-1D X or EOS 5D Mark III and add selected lenses.
It works as follows:
Buy either the EOS 5D Mark III or EOS-1D X DSLRs by 30 June 2014 and register by 31 July 2014.
Buy any qualifying lens by 30 September 2014 and register it by 31 October 2014 to claim your cashback.
You can choose to buy either one or two of the professional lenses, with up to €1000 cashback available on a combination of selected lenses (up to a maximum of two).
NOTE: to get access to the effective promotion pages click here, then scroll down until you find the links to various Canon country promotional websites. On these sites you will find all details of the cashback promotion (including the applicable products), how it works and the full terms and conditions of the promotion.
For your convenience, I put the links to Europe's Canon country promotional websites here: Canon France – Canon Germany – Canon Italy – Canon Netherlands – Canon Spain – Canon Portugal – Canon Sweden – Canon Finland – Canon Norway – Canon Denmark – Canon Hungary – Canon Slovakia – Canon Poland – Canon Czech Republic – Canon Estonia – Canon Latvia – Canon Lithuania – Canon Austria – Canon Switzerland – Canon Belgium – Canon Luxembourg