Canon Puts Connectivity at the Centre of its New Multi-Functional Printer, the PIXMA MX495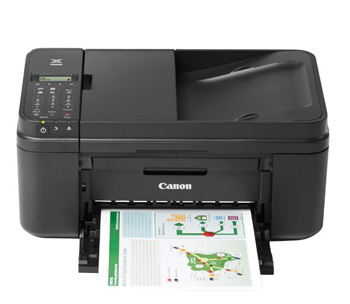 Canon press release:
Canon puts connectivity at the centre of its latest home office multi-functional printer, the PIXMA MX495
United Kingdom, Republic of Ireland, 03 February 2015 – Canon today announces an update to its PIXMA printer range with the launch of the PIXMA MX495. Designed for home office use, it replaces the MX395 and offers a full suite of connectivity features, from Wi-Fi, to support for Canon's enhanced PIXMA Cloud Link, all in a compact multi-function inkjet device. The introduction of the PIXMA MX495 ensures that Canon's wide range of connectivity options are available at every level of the range.
Enhanced Connectivity
The MX495 is an All-In-One device that delivers print, copy, scan and fax functionality and is designed to be affordable as well as intuitive, featuring built-in Wi-Fi and Cloud connectivity.The integrated Wi-Fi allows the MX495 to be shared between multiple PCs, laptops and wireless devices around the home and office, whether users are looking to print documents, PDFs, emails or presentations for work, homework projects, or a special photo to display in the home. Compatibility with Apple AirPrint™ and Google CloudPrint™, as well as the PIXMA Printing Solutions app, which can be easily downloaded for free from the Apple store or Google Play store, means that whatever connected device users rely on in the home or for work, there is a way to easily connect to a printer and print.
In addition, the MX495 connects to Canon's PIXMA Cloud link, which enables documents and images to be printed from cloud services such as GoogleDrive™, Dropbox™, Facebook™ and OneDrive™, direct from the printer itself. Users can also scan JPEGs and PDFs and save directly to cloud accounts or smart devices via the PIXMA Printing Solutions app, or scan and send important work documents via email as attachments. The MX495 also supports Access Point Mode, which allows smartphones and tablets to be connected to the printer without the need for an internet connection.
Superior Software
As with other models from Canon's PIXMA range, the MX495 also features access to Canon's My Image Garden¹ software, which combines all software previously available for Canon PIXMA products into one single easy-to-use interface, enabling quick and fluid navigation between printing and scanning functions. In addition, the Easy-PhotoPrint+ software, available via the PIXMA Printing Solutions app, also includes image templates, greeting cards and calendars that can be enhanced with photos, to be easily printed and shared with family or friends.
PIXMA MX495 key features:
FINE cartridge with 2pl ink droplets and up to 4800 dpi print resolution
ISO ESAT: 8.8ipm (Mono) 4.4ipm (Colour)
Optional XL cartridges
Wi-Fi connectivity & Access Point Mode
PIXMA Printing Solutions app
Apple AirPrint™ and Google Cloud Print™ compatibility
PIXMA Cloud Link (PRINT & SCAN)
Scan to email
Easy-PhotoPrint+
Pricing and Availability
The PIXMA MX495 will be available across the UK and Ireland from February 2015 with an SRP of £69.99/€84.99.