Canon Q3 2022 Financial Results Published (all fine and good, increased sales & profits)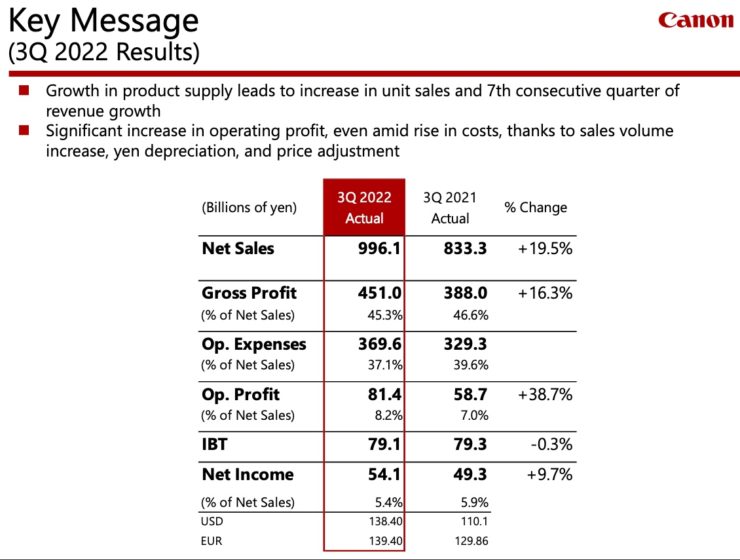 Canon posted their Q3 2022 financial results. Things look pretty good.
Canon reports increased unit sales and henceforth increased profits. It doesn't seem the company is struggling. Concerning the camera business:
Demand for cameras remains solid, even amid economic slowdown, thanks to the launch of new mirrorless models and interchangeable lenses by each company. As a result, we expect the market in 2022 to be 5.45 million units, a slight increase compared to last year.

In the third quarter, thanks to the higher volume of product supply and the addition of new models, namely the EOS R7 and EOS R10, mirrorless cameras that incorporate APS-C size sensors, we posted double-digit growth in unit sales, and coupled with an increase in lens sales, a significant increase in overall revenue.

Regarding our unit sales projection for the full year, we maintained our previous projection of 2.8 million units as we will not be able to supply enough products to meet demand. Going forward, we will continue to stimulate demand by steadily strengthening our lineup of EOS R series mirrorless cameras. Cameras that incorporate full-frame sensors, like the EOS R5 and EOS R6, continue to enjoy strong support from professionals and advanced amateurs. Additionally, the 2 new cameras that incorporate APS-C size sensors, with their light-weight and small form factor appeal, are encouraging users who want to enjoy serious photography to switch from SLR cameras or step up from entry models. We have also expanded our range of RF lenses to 32 models, providing users a variety of options.

Going forward, we will continue efforts to expand our market share and maintain high profitability by building a more robust EOS R system lineup.
Here are some selected slides from Canon's presentation material.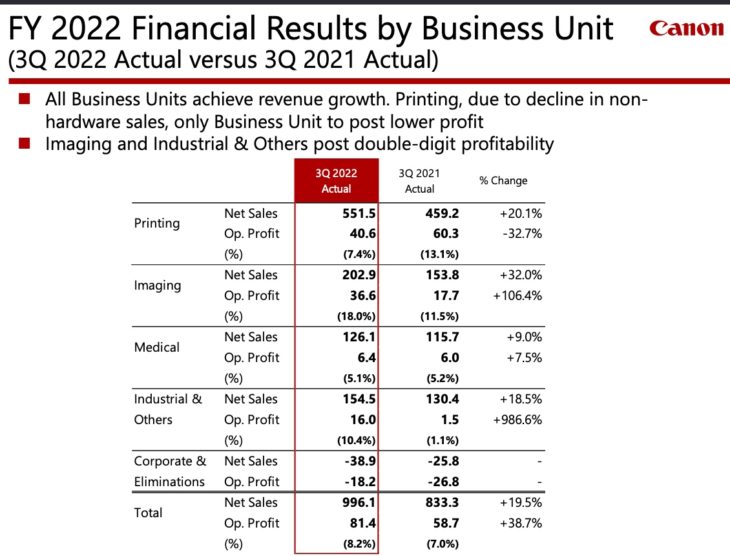 All Q3 2022 material can be seen and downloaded here.