Canon Ranks 35th on Interbrand's Best Global Brands Ranking 2013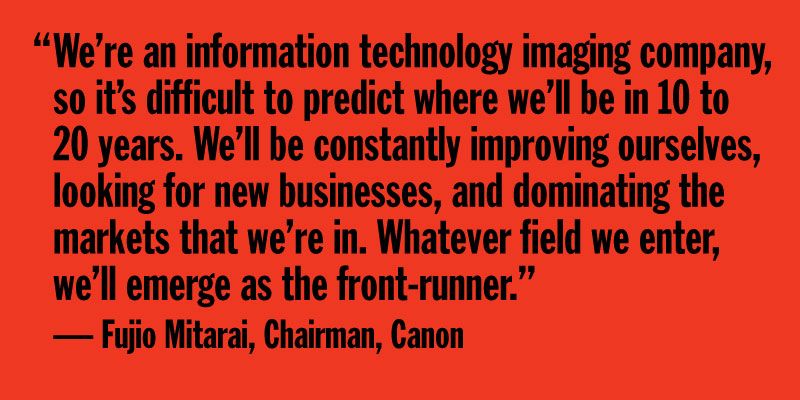 Every year Interbrand ranks what they think are the 100 most important global brands. Well, Canon ranks 35th (last year: 30th), Nikon doesn't even show up. Canon's brand value is estimated in 10,989 million dollars. Although there are other brands in the list that are involved in the photographic business, Canon is the only major photo-gear manufacturer in the list. Others brands in some way involved in the photo business are: Samsung (rank 8), Sony (rank 46), Panasonic (rank 68), Adobe (rank 79). And the leader of the list? Well, it's a manufacturer that builds one of the most popular cameras out there: Apple.
Interbrand also ranked the best "green brands". Canon ranks on position 30. If you want to learn about their methodology click here.
About Canon they write:
Despite the yen's volatility, the leadership of returning President Fujio Mitarai helped keep Canon steady through challenging times. This past year has seen a heady schedule of product launches, entry into new markets, and expansion of sales and manufacturing bases outside Japan. Since launching an entry-level digital SLR in 2003, Canon has become synonymous with the camera category. The high-end market continues growing, but the global market for compact digital cameras has collapsed as smartphones have become commonplace. Canon continues to innovate with products like the EOS M, employing a non-reflex operating system, as well as new additions to the PowerShot lineup and high-end, high-definition video cameras. The brand is also advancing into online photo management with Project 1709, a cloud-based service that promises deep social and product integration. To expand the imaging systems business domain, Canon also recently entered the growing retail photo printing business with DreamLabo 5000. In its core office business, Canon sees significant potential from the integration of Océ, made a wholly owned subsidiary this year, helping it become a leader in the printing industry. High-profile marketing campaigns and sports sponsorships, such as becoming the official partner of the IAAF World Athletics Series, help keep the brand top of mind with consumers. Still, with its core markets changing fast as technology advances and consumer behaviors evolve, Canon will need to increase its pace of innovation even more.
[
Interbrand
via
photoscala
]