Canon Reports 4th Consecutive Quarter Of Sales And Profit Growth
Business appears to do well for Canon. The company registered the fourth consecutive quarter of sales and profit growth, while a pandemic is going on. Everything is same same but different compared to the last results. Thanks, Edina, for the tip.
Canon published their Q3 financial results. The key message (in top) is pretty clear about how things went for Canon. Despite the "significant confusion in supply chain due to parts shortages, lockdowns etc.", demand was "solid". Fir the fourth consecutive time.
Same for the imaging department. See below.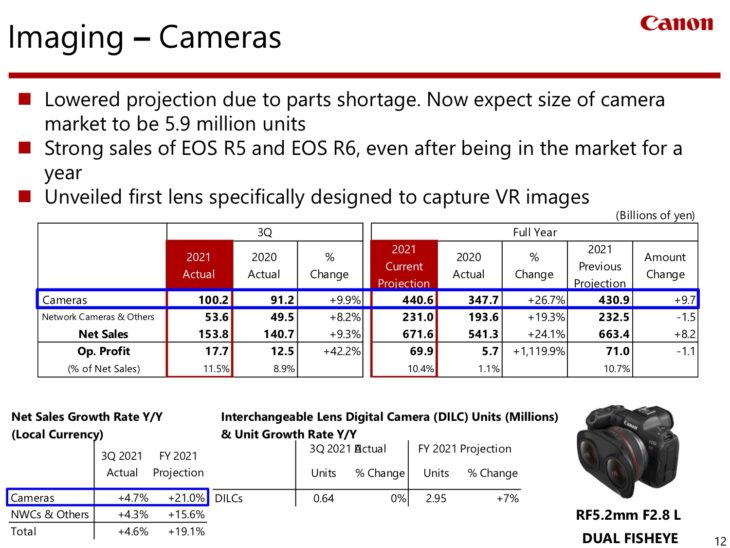 More in detail, here is how Canon was impacted by recent events:
Looking at the state of global affairs in the third quarter, we see that the number of new COVID-19 cases was on the rise again due to global spread of the Delta variant. However, as more and more people become vaccinated and economic activity returned to normal in many countries, we did not see any major change in corporate capital investment or
consumer spending. From a supply standpoint, our supply chain was seriously impacted by the shortage of semiconductors and other parts, and production activities were stalled due to strict lockdown measures in Southeast Asia.
For Canon as well, actual demand for products around the world was generally firm, but the supply side was inevitably affected by a shortage of parts and a decline in the utilization rate of manufacturing subsidiaries due to COVID-19. As a result, we did not reach our sales plan.

However, profits were almost on target as we judged the situation and made adjustments to pricing as well as strived to improve product mix.
In the imaging and camera department, sales are driven by the Canon EOS R5 and EOS R6, and by the expectation of the Canon EOS R3.
The camera market remained solid thanks to the strength of personal consumption, particularly in Europe and the United States, and the launch of new full-frame mirrorless cameras by each company that stimulated the need for high-quality image expression.

However, due to the global shortage of parts, the size of this year's market is now projected to be 5.9 million units, 100 thousand units fewer than in our previous projection. Similarly, we expect our own unit sales to be 2.95 million units, 50 thousand units fewer than in our previous projection.

As for the third quarter, although one year has passed since the launch of the EOS R5 and EOS R6, they continue to be strong selling models. As for our enhanced lineup of lenses, we exceeded our unit sales plan thanks to their synergy with camera bodies. We plan to increase our lens lineup to 26 within this year, including the RF 5.2 mm F2.8 L DUAL FISHEYE lens that we announced this month, our first lens designed specifically for capturing VR images. This lens, when mounted on an EOS R5, allows for the easy capture of 180 degree 3D VR images, and is attracting attention as a product that extends the user's image expression to the area of VR.

In November, the EOS R3 will be added to our lineup. Going forward as well, we will effectively introduce new camera bodies and lenses, strengthening the competitiveness of our products and maintain high profitability
You can inspect all Canon Q3 financial results here.