Canon RF 100mm f/2.8L IS Macro Review (great lens with some added weirdness)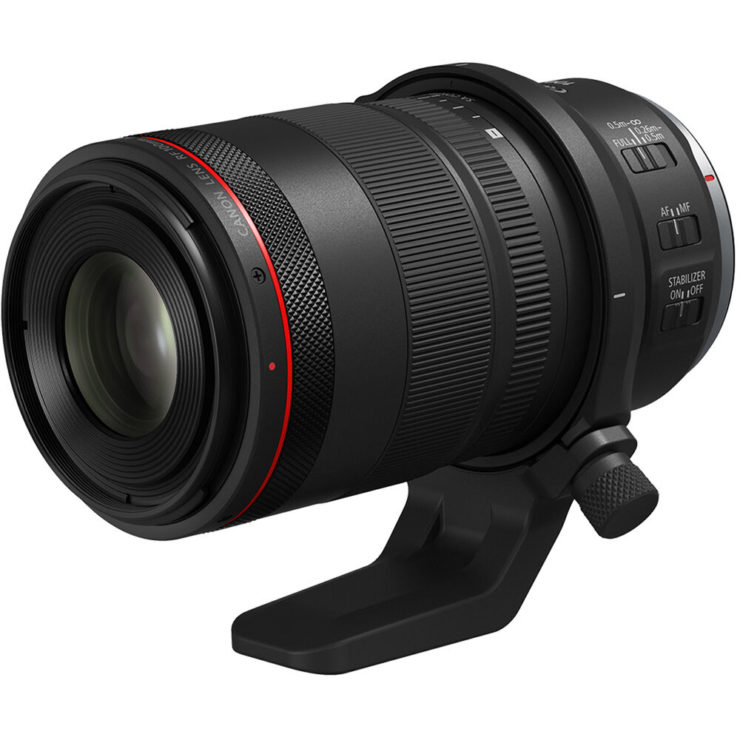 Here is a new Canon RF 100mm f/2.8L IS Macro Review. The Canon RF 100mm f/2.8L IS Macro is a lens getting many positive reviews. A rather interesting lens for any EOS R owner.
At a glance:
RF-Mount Lens/Full-Frame Format
1.4x Magnification with Autofocus
Aperture Range: f/2.8 to f/32
Minimum Focusing Distance: 10.2″
Super Spectra Coating
Smooth and Quiet Auto Focus
Optical Image Stabilization; Hybrid IS
Control Ring for Direct Setting Changes
9-Blade Diaphragm
Weather-Sealed Construction
The experts at Optical Limits posted their Canon RF 100mm f/2.8L IS Macro review. From their conclusion:
The Canon RF 100mm f/2.8 L USM macro IS is a great lens with some added weirdness. Optically, it is capable of delivering very sharp images straight from f/2.8 – just as you would expect from a moderately fast macro lens. Image distortions are basically negligible even without correction. Lateral CAs are on the low side as well and can be easily corrected anyway. This can't be said of the raw vignetting which is comparatively high at f/2.8 so auto-correction should remain activated. The quality of the bokeh is generally pleasing with a smooth background blur and nicely rendered highlights. The foreground blur isn't ideally rendered but that's usually of lesser concern. Bokeh lovers may also like the SA feature on the lens but, to be honest, for most of us, it'll remain an oddity that you have to pay for without using it. Maybe video makers can appreciate it more than photographers. That being said – the massive focus-breathing doesn't help with videos. A bit concerning are the RSAs when stopping down – focus shifts aren't helpful at very close focus distances. It's something to keep in mind when shooting at least.
More coverage of this outstanding lens is listed here.
Preorders in USA are open at $1,399: B&H Photo | Adorama. If you are based in UK we recommend Park Cameras. More worldwide preorders:
America: B&H Photo, Adorama, Amazon USA, Amazon Canada, Canon Canada, Canon USA
Europe & UK: Amazon DE, Amazon UK, Amazon IT, Wex Photo Video, Canon DE, Canon UK

Engineered specifically for full-frame EOS R-series cameras, the RF 100mm f/2.8L Macro IS USM Lens from Canon combines a medium-telephoto field of view with a sleek design and close-focusing performance. Designed for close-up imagery, this autofocus lens is an ideal choice for portraits and macro subjects. Featuring a fixed 100mm focal length, a bright f/2.8 maximum aperture, fast, highly-precise autofocus, and a spherical aberration control ring, this lens elevates the look of portraits and macro shots and gives you the ability to create dreamlike and romantic images with a soft focus look. Its close focus design enables working with subject matter as close as 10.2″ away, and a Super Spectra coating minimizes ghosting and flare when working in strong lighting conditions. The lens also features optical image stabilization, along with Hybrid IS, to suppress up to five stops of camera shake for cleaner, steadier shooting, and imagemakers can expect to see stunning results that enhance their creative and artistic vision.
Medium telephoto macro lens with a maximum magnification of 1.4x
High image quality and bright f/2.8 aperture
Optical Image Stabilizer with up to 5 stops of shake correction
Up to 8 stops of shake correction with coordinated Optical Image Stabilizer and In-Body Image Stabilizer
Hybrid IS system compensates for angular and shift camera shake during macro shooting
Super Spectra coating to minimize ghosting and flare when working in strong lighting conditions
Spherical Aberration Control Ring allows for adjustments to shape and character of foreground and background bokeh
High speed, smooth, and quiet auto focus with Dual Nano USM
Control ring for direct setting changes
Sealed against dust and moisture for working in inclement environmental conditions
Optional rot