Canon RF 85mm f/2 Macro IS STM DxOMarked, Scores Better Than EF 85mm f/1.2L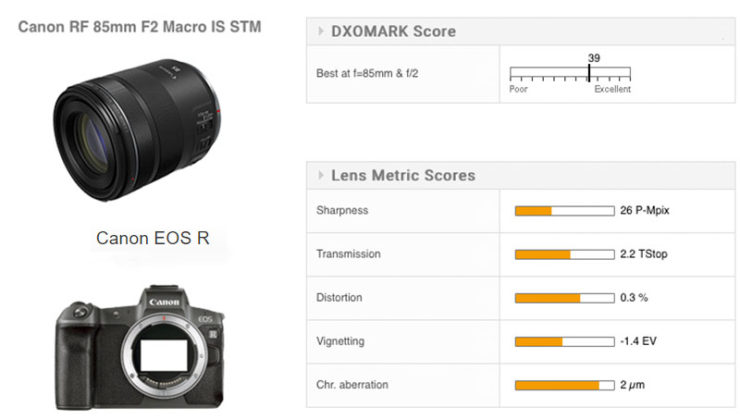 The Canon RF 85mm f/2 Macro IS STM lens has undergone DxOMark's tests, and the result is rather surprising. Or maybe not, given that we are talking Canon and RF mount.
The Canon RF 85mm f/2 Macro IS STM lens for a DxOMark score of 39. That's better than two "L"-tier lenses for Canon's EF mount. Both the EF 85mm f/1.2L (38) and EF 85mm f/1.2L II (37) have a lower score, although the difference is minimal. Still, a $600 lens performing optically better than a $2,000 lens.

From DxOMark's conclusion (emphasis mine):
After the introduction of the ultra-fast and somewhat esoteric RF 85mm F1.2L models for Canon's new EOS R system, the more modestly priced and compact Canon RF 85mm F2 Macro IS STM is likely to placate most detractors of those early L-series who cited cost and weight as barriers to entry. As the RF mount equivalent of the highly regarded EF 85mm F1.8 version, the new lens has some interesting benefits such as stabilization and close focusing. Both features will appeal to wedding photographers, but it is the very high optical quality that will likely make this particular lens stand out and earn its place as the true replacement for the older EF version.

Admittedly, there are some points that may make potential purchasers pause, such as the slower maximum aperture, front barrel extension, and the adoption of an STM over the usually faster USM, but few can deny that this lens is an appealing alternative to those costly L-series models.

Read the review at DxOMark…
The Canon RF 85mm f/2 Macro IS STM is a very good performer, other reviews confirmed it. This lens is just a no brainer for any EOS R owner.
Canon RF 85mm f/2 IS STM Macro:
America: B&H Photo, Adorama, Amazon USA, Amazon Canada, Canon Canada, Canon USA
Europe & UK: Amazon DE, Amazon UK, Amazon IT, Wex Photo Video, Canon DE, Canon UK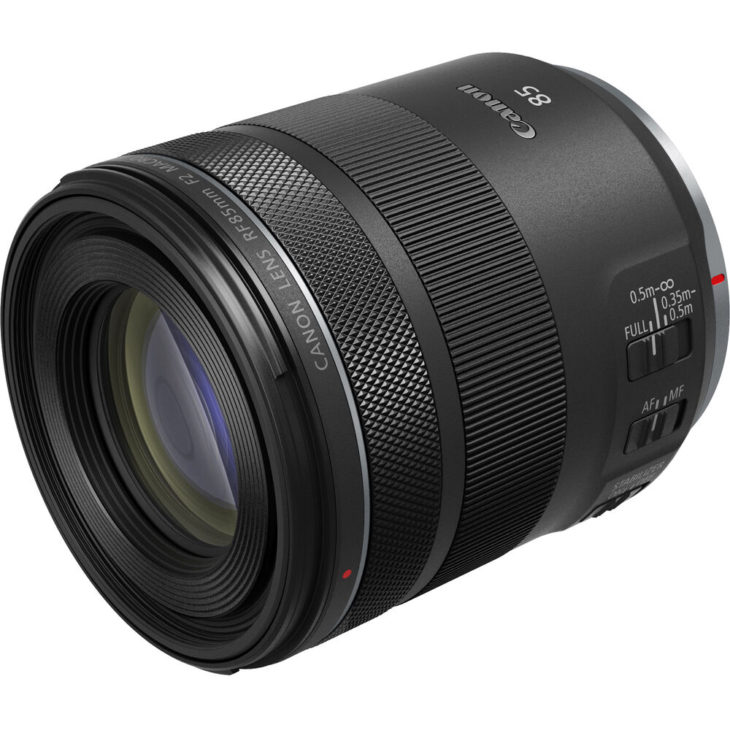 Canon RF 85mm f/2 Macro IS STM description:
Combining a short-telephoto field of view with a sleek design and close-focusing performance, the RF 85mm f/2 Macro IS STM is a well-rounded lens for a range of subjects, from portraits to macro subjects. Its close focus design enables working with subject matter as close as 1.15′ away with a 1:2 maximum magnification and the STM stepping motor affords impressively quiet and smooth autofocus performance and full-time manual focus override. Helping to create sharp imagery, the lens also features optical image stabilization, along with Hybrid IS, to suppress up to five stops of camera shake for cleaner, steadier shooting. A UD (Ultra low Dispersion) element is also used in the optical design to minimize aberrations and ensure clarity. Additionally, a configurable Control Ring lets you adjust exposure settings, including ISO, aperture, and exposure compensation, from the lens itself.
Portrait-length prime is designed for use with full-frame Canon RF-mount mirrorless digital cameras.
Modest-but-bright f/2 maximum aperture maintains an overall sleek form factor while also benefitting working in available lighting conditions.
Macro design benefits working with close-up subjects and provides a 1:2 maximum magnification along with a minimum focusing distance of 1.15′.
An Optical Image Stabilizer helps to minimize the appearance of camera shake by up to five stops to better enable working in low-light conditions and with slower shutter speeds. Also, a Hybrid IS setting compensates for angular and shift-type camera movements to specifically benefit close-up shooting.
STM stepping motor offers fast, quiet, smooth, and accurate autofocus performance that is ideal for video recording as well as still shooting.
Configurable Control Ring can be used to adjust a variety of exposure settings, including aperture, ISO, and exposure compensation.
Rounded nine-blade diaphragm contributes to a pleasing bokeh quality.