Canon RF 85mm f/2 MACRO IS STM Review (lot of great virtues optically)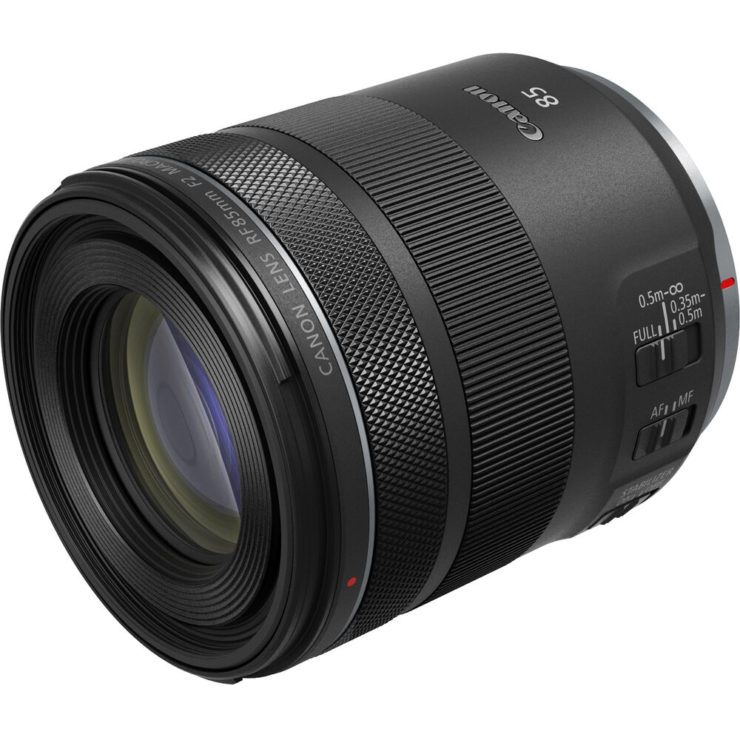 Here is a new Canon RF 85mm f/2 Macro IS STM Review. The RF 85mm f/2 is one of the less expensive lenses for the EOS R system.
Coming from Dustin Abbott, this is a full and exhaustive Canon RF 85mm f/2 Macro IS STM Review. From Dustin Abbott's conclusion:
[the RF 85mm f/2 Macro IS STM] has a lot of great virtues optically, delivering great detail, nice bokeh, and a quality of rendering that is quite excellent.

But the autofocus left me often frustrated, and that's even more disappointing in a day where I'm seeing great autofocus from all kinds of players in the lens market. […] This lens needed Canon's Nano-USM rather than the cheaper STM motor. The great optical performance is unfortunately let down by a disappointing autofocus system.

[…] I really, really want to love this lens, as the idea of an affordable, optically excellent 85mm lens that just happens to do 1:2 macro competently is an enticing one. But while I loved the images I got from the [RF 85mm f/2], I found the process of getting them often frustrating. You'll have to determine whether you can live with the flaws I've detailed. User reviews are generally very positive, though the one caveat that does routinely show up is some disappointment with the autofocus. The lens is otherwise good enough that it might be worth living with, but ultimately you'll have to make that call for yourself.
As usual the review comes with a huge set of sample pictures, comparison charts, and all the information you might want to know. Dustin's reviews are what I look for when I am about to purchase new gear. And for those who prefer to watch their reviews, Dustin Abbott provides a comprehensive video-review.
A 13 minutes summary of the review:
And the full and definitive review:
You can follow Dustin Abbott on Instagram | Facebook | Twitter | Flickr | 500px.
Other reviews have been more positive and consider the Canon RF 85mm f/2 Macro IS STM to be a very good performer. Some say this lens is just a no brainer for any EOS R owner.
Canon RF 85mm f/2 IS STM Macro:
America: B&H Photo, Adorama, Amazon USA, Amazon Canada, Canon Canada, Canon USA
Europe & UK: Amazon DE, Amazon UK, Amazon IT, Wex Photo Video, Canon DE, Canon UK

Canon RF 85mm f/2 Macro IS STM description:
Combining a short-telephoto field of view with a sleek design and close-focusing performance, the RF 85mm f/2 Macro IS STM is a well-rounded lens for a range of subjects, from portraits to macro subjects. Its close focus design enables working with subject matter as close as 1.15′ away with a 1:2 maximum magnification and the STM stepping motor affords impressively quiet and smooth autofocus performance and full-time manual focus override. Helping to create sharp imagery, the lens also features optical image stabilization, along with Hybrid IS, to suppress up to five stops of camera shake for cleaner, steadier shooting. A UD (Ultra low Dispersion) element is also used in the optical design to minimize aberrations and ensure clarity. Additionally, a configurable Control Ring lets you adjust exposure settings, including ISO, aperture, and exposure compensation, from the lens itself.
Portrait-length prime is designed for use with full-frame Canon RF-mount mirrorless digital cameras.
Modest-but-bright f/2 maximum aperture maintains an overall sleek form factor while also benefitting working in available lighting conditions.
Macro design benefits working with close-up subjects and provides a 1:2 maximum magnification along with a minimum focusing distance of 1.15′.
An Optical Image Stabilizer helps to minimize the appearance of camera shake by up to five stops to better enable working in low-light conditions and with slower shutter speeds. Also, a Hybrid IS setting compensates for angular and shift-type camera movements to specifically benefit close-up shooting.
STM stepping motor offers fast, quiet, smooth, and accurate autofocus performance that is ideal for video recording as well as still shooting.
Configurable Control Ring can be used to adjust a variety of exposure settings, including aperture, ISO, and exposure compensation.
Rounded nine-blade diaphragm contributes to a pleasing bokeh quality.