Canon Rules The Astrophotography Universe (pun intended)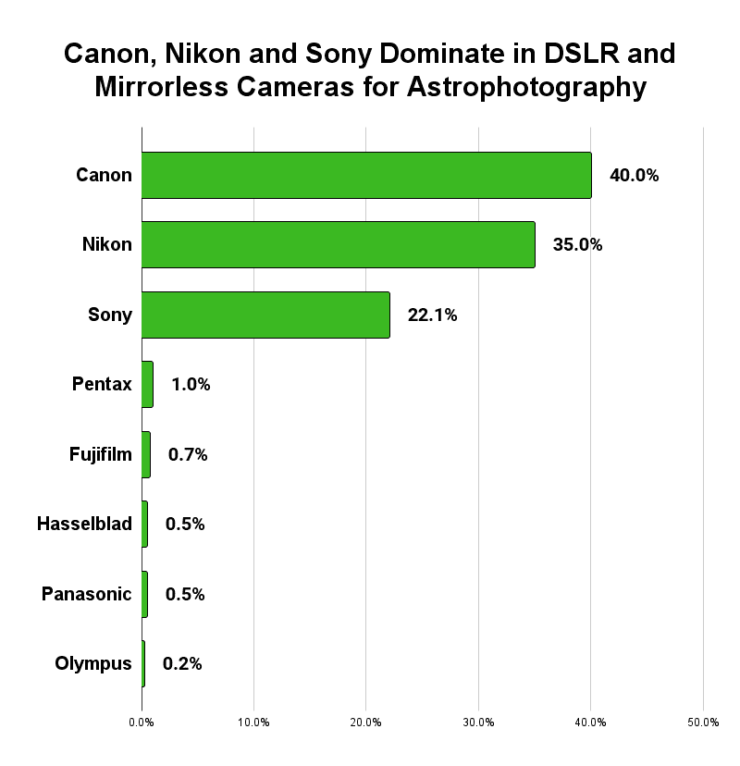 Yes they do: Canon is the most used camera gear in astrophotography (see image on top). That's what came out from a recent research.
The folks at Skies & Scopes analyzed 828 images listed for the Astronomy Photographer of the Year competition in the past six years to learn what equipment was used:
315 Landscape Astrophotography images (including aurora)
284 Deep Sky images (galaxies, nebulae, etc)
229 Planetary images (including solar and lunar)
Here is a short list of their findings:
The trend towards mirrorless camera use increases every year – 58% Mirrorless vs 42% DSLR in 2023
Full-frame sensor DSLR and mirrorless models are overwhelmingly favored – 87% full-frame vs 13% APS-C
The most successful models are:

Canon EOS 6D
Canon EOS 5D Mark IV
Nikon D850
Nikon D750
Nikon D810A
Nikon Z6 II
Sony A7 III
Sony A7R III
Camera Lenses

Sigma is the top lens maker
14mm f/2.8 and 14mm f/1.8 lenses are the most used for landscape astrophotography
Get the story and more information at Skies & Scopes.