Canon See Impossible Campaign Focuses Away From Products And Onto Customers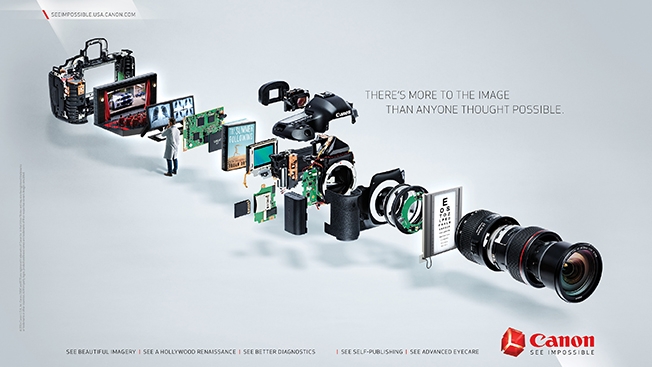 Update:  the site is live now
I think the mystery is solved (thanks to a comment in the previous post).
Canon's See Impossible is a marketing campaign where the company tries to focus less on products and more onto customers.
Canon's campaign centers around a new microsite, which houses a series of digital videos that highlight how customers use a range of products. One 45-second clip shows how an author used the technology to self-publish her book. Going forward, Canon will expand the site's content to include submissions from consumers and clients.
This is what we will see as soon as the counter reaches zero (9am EST, 2pm central European time):
A 3-D visual of an expanding box on the page divvies up different pieces of content. For example, clicking on one section of the box triggers a "create" experience to show how the products work. Other tabs highlight customers' stories and additional information about the brand.
So, no new revolutionary sensor, no pro-grade mirrorless cam, no new glass :-) Still an interesting project. Two videos are already online on Youtube.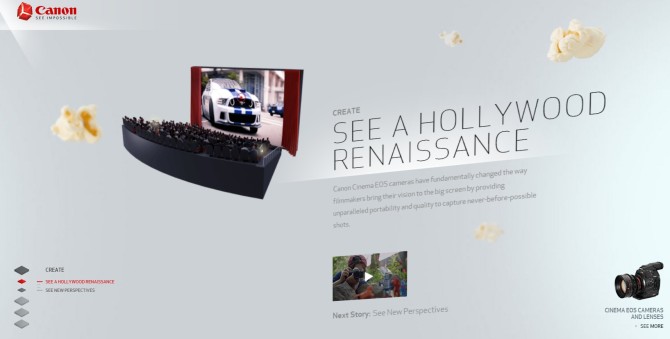 Canon press release:
Canon U.S.A. Unveils "Canon See Impossible" – A Branding Effort Empowering The Creative Spirit In Customers To Make The Impossible Possible
From Hollywood Films to Publishing and Medical Technologies, New Inspirational Brand Ethos Spotlights the Breadth of the Company's Capabilities and Contributions to Developing Imaging Technologies that Showcase the Impossible for Customers
MELVILLE, N.Y., October 7, 2014 – Canon U.S.A., Inc., a leader in digital imaging solutions, is proud to announce "Canon See Impossible" – a branding effort aimed to inspire customers to see impossible with Canon products. As part of the companywide marketing initiative, the iconic brand will roll out a new logo visual to include the addition of the "Canon See Impossible" tagline, accompanied by a 3-D visual of an expanding box, symbolizing the Company's desire to break the boundaries of what is possible and shift the focus from Canon as being solely a manufacturer of quality digital imaging products to a Company that empowers the creative spirit within its people and customers.
Central to the new marketing initiative, the light within the borderless box represents the dedication the Company has to building new collaboration paths with both consumers and commercial clients to constantly innovate and to challenge convention. As the next chapter in the Company's long history unfolds, Canon is working to listen, adapt, and build a prescient understanding of the changing market forces it faces today and the opportunities they present.
Creative is featured on seeimpossible.usa.canon.com, a digital hub housing consumer, professional, and commercial stories of inspiration, imagination, and innovative end-user applications of Canon imaging technology.
"As a technology-based brand, Canon is constantly challenged to empower its customers in today's high-tech and fast-paced world in which new apps and innovations are launching every single day," said Joe Adachi, Chairman and CEO, Canon U.S.A., Inc. "With imagination and customer focus at the core of the Canon business model, 'Canon See Impossible' will highlight the combined technological innovation and human ingenuity that makes the impossible possible. Our new rallying cry will extract creative thinking from a place of isolation, encourage exploration of the unknown, and showcase our creativity as it impacts the real world with limitless possibilities."
The Company's heritage in imaging technology advancement and migration into new, applicable business domains has been going on since the 1930's. The foundation of success was initially built with film cameras, which led to the evolution of high-quality digital cameras for families and professionals, and eventually led to groundbreaking imaging platforms for Hollywood productions that use Canon Cinema EOS Camera technology. Remarkable technologies that have empowered end-users to see the infinite possibilities of the image and to make the impossible come alive go beyond photography applications. Advances in optics development, imaging sensors and powerful image processing technology have been harnessed to deliver a wide range of cutting-edge solutions today. One of the latest developments has been with eye-care technology, allowing ophthalmologists to see deep into the eye, helping to enable early detection, treatment and prevention of eye disease.
Canon has introduced groundbreaking developments in digital imaging reproduction hardware and software solutions. Canon has created new business models, in conjunction with key partners, such as on-demand book printing, empowering aspiring authors to publish and bring their literary visions forward. Central to the "Canon See Impossible" campaign is cultivating storylines that illustrate how Canon technology, combined with end-user ingenuity, breaks new ground daily and how, together, the sharing of ideas and opportunities will help provide a picture of future imaging technology and service development direction.
Elements of "Canon See Impossible" will be launched in print, digital media, and live events and will run on various video media platforms during the fourth quarter of 2014, extending into 2015 and beyond as part of a multiyear effort by Canon.
GREY New York is leading brand strategy, integrated creative, promotional, event, and public relations efforts for the Canon Masterbrand campaign.
About Canon U.S.A., Inc.
Canon U.S.A., Inc., is a leading provider of consumer, business-to-business, and industrial digital imaging solutions. With approximately $36 billion in global revenue, its parent company, Canon Inc. (NYSE:CAJ), ranks third overall in U.S. patents granted in 2013+ and is one of Fortune Magazine's World's Most Admired Companies in 2014. In 2014, Canon U.S.A. has received the PCMag.com Readers' Choice Award for Service and Reliability in the digital camera and printer categories for the 11thconsecutive year. Canon U.S.A. is committed to the highest level of customer satisfaction and loyalty, providing 100 percent U.S.-based consumer service and support for all of the products it distributes. Canon U.S.A. is dedicated to its Kyoseiphilosophy of social and environmental responsibility. In 2014, the Canon Americas Headquarters secured LEED® Gold certification, a recognition for the design, construction, operations and maintenance of high-performance green buildings. To keep apprised of the latest news from Canon U.S.A., sign up for the Company's RSS news feed by visiting www.usa.canon.com/rss and follow us on Twitter@CanonUSA. For media inquiries, please contact [email protected].