At Canon They See Impossible – Strange Ad Pointing To Teaser Page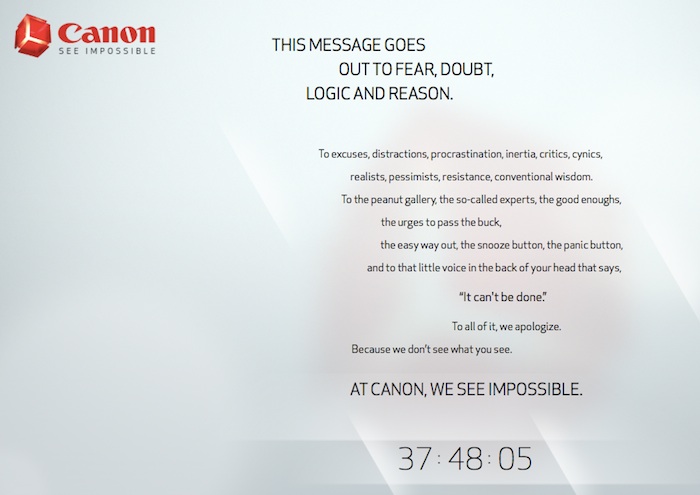 Thanks to the reader who sent this.
An ad appeared on the New York Times, pointing to this page where Canon is teasing us with the following text:
THIS MESSAGE GOES

OUT TO FEAR, DOUBT,

LOGIC AND REASON.
To excuses, distractions, procrastination, inertia, critics, cynics,

realists, pessimists, resistance, conventional wisdom.

To the peanut gallery, the so-called experts, the good enoughs,

the urges to pass the buck,

the easy way out, the snooze button, the panic button,

and to that little voice in the back of your head that says,

To all of it, we apologize.

Because we don't see what you see.

AT CANON, WE SEE IMPOSSIBLE
Very cryptic, and a bold statement too! The site shows a clock counting down. At the time of writing, 37 hours and 48 minutes are left to the teased event.
It appears to point to something important. New lenses? A new sensor? Or, eventually, a serious and pro-grade mirrorless camera?
Thoughts and comments welcome. Let me know what you think.
Update:
Below you see the ad on the New York Times. The pic of the NYT page up on davetutin.com