Canon shows off a 120MP Sensor with 9.5 fps at CP+ (global shutter?) – Update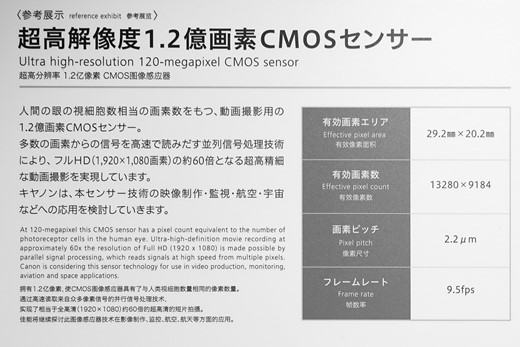 Image courtesy of Canon

Update: as user Visalapol Nutavej noted in the comment section (thanks), this sensor is not totally new. Canon announced its development back in 2010. I added the 2010 press release after the break.
Original post: DPReview is at CP+, and they spotted a Canon 120MP sensor with 9.5 fps (APS-H-size). And there is more. This part of DPReviews article puzzles me:
The frame rate of read-out for this ultra high-resolution is 9.5fps, and is made possible by reading multiple pixels simultaneously at high speeds – a process Canon is calling 'parallel signal processing'.
According to Canon this sensor will be used for video production, monitoring, aviation, and space applications. "Parallel Signal Processing" makes me think about some sort of global shutter technology, or whatelse could "reading multiple pixels simultaneously at high speeds" mean? What do you think?
2010 press release after the break
TOKYO, August 24, 2010—Canon Inc. announced today that it has successfully developed an APS-H-size*1 CMOS image sensor that delivers an image resolution of approximately 120 megapixels (13,280 x 9,184 pixels), the world's highest level*2 of resolution for its size.
Compared with Canon's highest-resolution commercial CMOS sensor of the same size, comprising approximately 16.1 million pixels, the newly developed sensor features a pixel count that, at approximately 120 million pixels, is nearly 7.5 times larger and offers a 2.4-fold improvement in resolution.*3
With CMOS sensors, while high-speed readout for high pixel counts is achieved through parallel processing, an increase in parallel-processing signal counts can result in such problems as signal delays and minor deviations in timing. By modifying the method employed to control the readout circuit timing, Canon successfully achieved the high-speed readout of sensor signals. As a result, the new CMOS sensor makes possible a maximum output speed of approximately 9.5 frames per second, supporting the continuous shooting of ultra-high-resolution images.
Canon's newly developed CMOS sensor also incorporates a Full HD (1,920 x 1,080 pixels) video output capability. The sensor can output Full HD video from any approximately one-sixtieth-sized section of its total surface area.
Images captured with Canon's newly developed approximately 120-megapixel CMOS image sensor, even when cropped or digitally magnified, maintain higher levels of definition and clarity than ever before. Additionally, the sensor enables image confirmation across a wide image area, with Full HD video viewing of a select portion of the overall frame.
Through the further development of CMOS image sensors, Canon will break new ground in the world of image expression, targeting new still images that largely surpass those made possible with film, and video movies that capitalize on the unique merits of SLR cameras, namely their high mobility and the expressive power offered through interchangeable lenses.
*1

The imaging area of the newly developed sensor measures approx. 29.2 x 20.2 mm.

*2

As of August 20, 2010. Based on a Canon study.

*3

Canon's highest-resolution commercial CMOS sensor, employed in the company's EOS-1Ds Mark III and EOS 5D Mark II digital SLR cameras, is equivalent to the full-frame size of the 35 mm film format and incorporates approximately 21.1 million pixels. In 2007, the company successfully developed an APS-H-size sensor with approximately 50 million pixels.