Canon Supports Creative Photojournalism At Visa pour l'Image 2014
For the German press release click here, for the French press release click here. An English CPN article on Visa pour l'Image is here.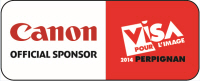 Canon EU press release:
Canon champions creative photojournalism at Visa pour l'Image 2014
London, UK, 27 August 2014 – Canon today announces its activity programme at Visa pour l'Image 2014, the annual festival of photojournalism held in Perpignan, France. Championing the festival for 25 years, Canon is a long-running supporter of the illustrious event and will showcase its leading range of products and services at the show, whilst offering expertise to the 3,000 accredited professional photojournalists registered to attend.
Canon will be running an exciting interactive programme of events throughout the 7 day festival that highlights the very best in photojournalism and reflects the company's passion for powerful images. The Canon programme will include: Canon experience zone
The Canon experience zone at the festival will display Canon's vast range of professional products – from image capture through to printing – with the opportunity for photographers to experience the latest products for themselves. Accredited photographers can also visit the CPS depot where there will be the opportunity to have their equipment checked, cleaned and have small repairs undertaken, all for free.
Creative inspiration for attendees
Canon continues to work with an impressive line-up of leading industry professionals, focussing on promoting the best in photojournalism. As part of the seminar line-up, Canon Ambassador Ziv Koren will be hosting a technical workshop, which will provide attendees with an overview of using the EOS 5D Mark III and the EOS-1D X in low-light. Seminars will take place in the Palais des Congrès, with the full programme to be announced on the Canon Professional Network site (http://cpn.canon-europe.com) in the coming weeks.
The work of other Canon Ambassadors will be showcased throughout the festival, including Canon Explorer Sarah Caron who will be displaying iconic images from her forthcoming book Movida Massala, which celebrates Pakistan's diverse and rapidly evolving fashion industry.
In partnership with Canon, experts and photojournalists from Getty Images will also be hosting a series of roundtables, showcasing the award-winning photojournalism the company is renowned for, as well as providing insight, expertise and advisory into how aspiring photojournalists can stand out in today's competitive landscape.
Evening screenings of exhibitors' and photographers' work will take place daily throughout the festival at the Campo Santo and Place de la République.
Canon Female Photojournalist Award: Viviane Dalles
Canon has again sponsored the Female Photojournalist Award 2014, which will be presented at Visa pour l'Image. Supported by ELLE magazine, this year's award is granted by Canon to Viviane Dalles, for her project, Teenage mothers in North of France. Dalles will receive a grant at the award ceremony on 6th September 2014, to support her portfolio of work. All entrants have been judged on both previous works and plans for future projects. In addition, the 2013 winner, Mary Calvert, will be exhibiting her work on the War Within at the festival.
Celebrating the Ian Parry scholarship
In honour of the 25th anniversary of the esteemed Ian Parry scholarship, an exhibition of iconic images from the entrants will be showcased at the festival, all of which will be printed on Canon's imagePROGRAF large format printer. Canon will also provide the 2014 winner with an EOS 5D Mark III to aid them with their chosen assignment, alongside the main grant provided to allow them to shoot their project.
Canon Professional Network
The Canon Professional Network will be reporting directly from Visa pour l'Image in Perpignan, France, from 1st to 7th September 2014. To view stories from the show and for more information about the festival, photographers and enthusiasts please visit: www.canon-europe.com/cpn.