Canon Working On A Full Frame Mirrorless Camera?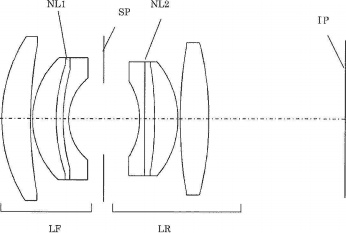 That's what a Patent spotted by
Egami
(
translated
) appears to suggest, if I am not misunderstanding the poor machine translation:
Canon SLR full size corresponds to 50 mm F1.2 and corresponds to the full size mirror-less 50 mm F2 of the patent is pending. Because large-diameter lens symmetrical with the axial chromatic aberration is corrected by using the anomalous dispersion glass which has been optimized, you can expect the performance. We are starting to design-conscious companies with full size mirror-less, the emergence of full-fledged full size mirror-less would be a matter of time.
Patent description:
Patent Publication No. 2012-247451

Release Date 2012.12.13

Filing date 2011.5.25

Focal length f = 51.70mm

Fno. 1.25

Half angle of view ω = 22.71 °

Image height 21.64mm

105.65mm length lens

BF 40.00mm

Nine 6 groups lens configuration

One one aspherical surface

Maximum effective diameter 45.16mm

Focal length f = 50.00mm

Fno. 2.06

Half angle of 23.40mm

Image height 21.64mm

Length 72.62mm lens

BF 28.86mm

Eight four group lens configuration

No aspherical

Maximum effective diameter 33.34mm

Compensation of magnification chromatic aberration can be

Difficult to correct axial chromatic aberration and the large-diameter

Symmetric lens large aperture

Positive, aperture, arranged in the order of the positive

Using a high anomalous dispersion glass, the axial chromatic aberration is corrected
[via Egami]