Canon's EF 400mm f/2.8L IS II Is A Completely Uncompromising Lens (DxOMark)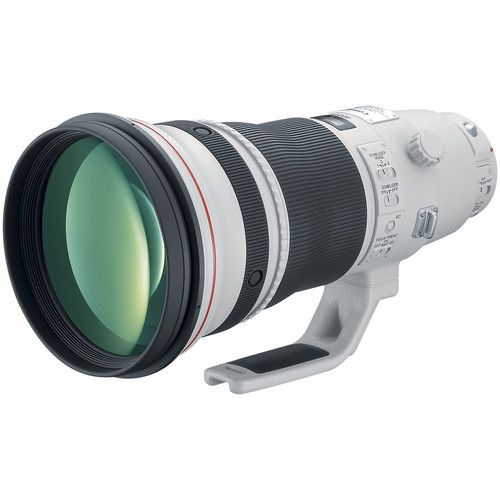 DxOMark reviewed Canon's EF 400mm f2.8L IS II USM lens. Not much people can afford a lens that costs $10.999 (click here), but professional photogs needing a (super) telephoto with f/2.8, e.g. sport photographers, will be happy with this "completely uncompromising" lens. The lens was tested with a Canon EOS 5D Mark III (price & specs). DxOMark writes:
The design consists of 16 elements in 12 groups, including some fluorite glass. There is a 'Subwavelength Structure Coating' to reduce flare and a fluorine coating on the front and rear elements that makes cleaning easier. There is provision for internally mounted 52mm filters and for Gelatin filters too, this is just as well since the front of the lens is 163mm across, virtually ruling out using front mounted filters. The length is 343mm and the weight is 3850g: about the same as a new born baby!
The lens is incredibly sharp:
The Canon EF 400mm f2.8L IS II USM is one of the sharpest Canon lenses scoring 21 P-Mpix when measured on a Canon EOS 5D Mk III. This negligible difference between the sensor Mpix and the perceived sharpness is excellent. All of the measurements are good: the transmission is very slightly slower than stated; there is one tenth of one percent distortion! Too little to see and vignetting at 1.1EV is manageable, easily fixed with DxO Optics Pro. This is a top quality lens.
If your looking out for this baby, then I suggest you have a look at DxOMark's review. In the conclusion they write:
if you need a wide 400mm lens for your Canon camera and you can afford it – and you can justify it – this lens is one of the sharpest DxOMark has tested on a Canon camera. It is big, it is very heavy, (though lighter than the Nikkor!) and it will require real skill to exploit the amazing effect that an aperture of f/2.8 can give on such a long lens, but it is very unlikely that you will be disappointed.
Canon EF 400mm f2.8L IS II USM price check: B&H Photo, Adorama, Amazon USA, Amazon Canada, Canon Canada, Canon USA Canon EOS 5D Mark III price check: B&H Photo, Adorama, Amazon USA, Amazon Canada, Canon Canada, Canon USA
Canon EF 400mm f2.8L IS II USM core specs:
L-Series Optics
Optical Image Stabilization – 3 Modes
Fast Ultra-Sonic Motor (USM) Autofocus
Full-time Manual Focusing Functionality
High-speed CPU
Autofocus Stop Feature
Dust and Water Resistant
Fluorite Glass for Improved Quality
Protective Fluorine Lens Coating
Security Slot for Wire-Type Lock