Canon's ME20F-SH Multi-Purpose Camera Enables Viewers to 'See in the Dark' on National Geographic's 'Earth Live'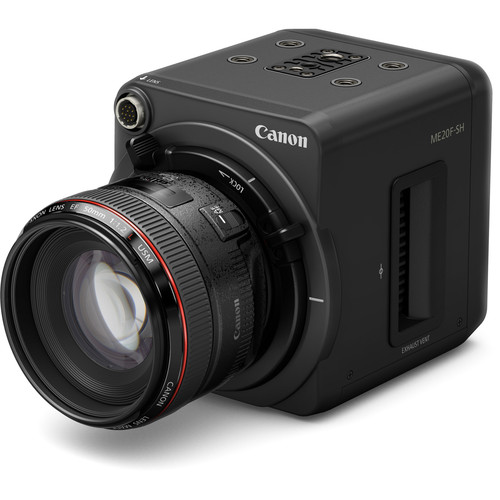 ME20F-SH at a glance:
Up to 4 Million ISO & 12 Stops DR
Full Frame 35mm CMOS Sensor
Canon DIGIC DV 4
Full HD up to 60p
HD/3G-SDI & HDMI Connectors
Canon Locking Cinema EF Lens Mount
Canon's mighty and underestimated ME20F-SH Multi-Purpose Camera, able to go up to ISO 4M and to deliver 12 stops of dynamic range, got some press. The ME20F-SH was used in National Geographics "Earth Live" project. The Canon ME20F-SH is not for anyone, it's a specialised camera and it sells for $20,000 at B&H Photo and Adorama.
The trailer…

Canon press release:
Canon ME20F-SH Multi-Purpose Camera Allows Television Audiences to Enjoy a Live-Broadcast First: Wildlife in Full Color at Night
MELVILLE, N.Y., August 2, 2017 – Canon U.S.A., Inc., a leader in digital imaging solutions, is proud to congratulate the team behind the National Geographic's live television special "Earth Live". The two-hour broadcast featured a live-production first, by using Canon's ME20F-SH Multi-Purpose Camera along with a variety of Canon lenses, including the CINE-SERVO 50-1000mm T5.0-8.9 EF to show television viewers live images of illusive nocturnal wildlife from around the world at night, in color, without using artificial lighting. Hosted by award-winning actress Jane Lynch and award-winning television personality Phil Keoghan, the unprecedented two-hour event gave viewers an unfiltered, real-time broadcast feed to see Earth's wildlife in various natural habitats with the use of 51 cameras shooting simultaneously in 25 different locations across six continents. The show premiered on National Geographic, Nat Geo WILD and Nat Geo MUNDO on Sunday, July 9, and aired in 171 countries and 45 languages.
Working closely with National Geographic, executive producer Al Berman's idea for "Earth Live" involved several locations that were in total darkness during the live production and those dark locations would either require lights that would disturb wildlife, or the use of infrared or thermal cameras, which didn't suit Berman's idea. It wasn't until 2015 when Canon debuted the ME20F-SH Multi-Purpose Camera that Berman saw the opportunity to broadcast undisturbed nocturnal wildlife in color. The announcement of this revolutionary four million ISO, full-frame sensor camera that can shoot full-color video in extreme low-light conditions, immediately caught the attention of Berman, who approached Canon U.S.A. with his idea. The Company's technical support team worked closely with Berman and his crew to provide and test equipment to help bring this concept to life.
"The Canon ME20F-SH camera made it possible to do the show, and we were awed by the footage this camera was able to capture in challenging low-light environments," said Berman. "Through Canon's ongoing, hands-on support, viewers were able to see Earth's greatest wildlife and further deepen their understanding of the world."
The incredible ISO capability of the ME20F-SH allowed for viewers to virtually see in the dark and watch—in full color—live wildlife lit only by the moon. Dubbed the "Canon Moon Cam" by cinematographers during the live production, filmmakers were awed by the footage they were able to capture and broadcast in color around the world.
"Using Canon's ME20F-SH allowed viewers to see these marvelous creatures in their natural environment, opening a portal into this beautiful unknown world," said Yuichi Ishizuka, president and COO, Canon U.S.A., Inc. "We feel honored that National Geographic and Mr. Berman called on Canon to be a part of such a pioneering and magnificent piece of work, allowing the world to see what has never been seen before. This kind of innovation is the bedrock of our company, and we look forward to more opportunities to show the power of imaging."
"Earth Live was an ambitious television special that allowed us to go beyond what we thought was possible" said Tim Pastore, president, original programming & production, National Geographic. "The footage and images deeply resonated with our audience, and we couldn't be happier that Canon was a part of the incredible moment for our network and in television history."
The broadcast featured live feeds from nine Canon ME20F-SH cameras positioned in the parts of the world that were in nighttime during the live broadcast. Additional Canon equipment used by the National Geographic Channel for the television special included the CN-E30-300mm T2.95-3.7 L SP Cinema Zoom Lens and the CINE-SERVO 17-120mm T.2.95-3.9 PL.
"Earth Live" is produced by Bunim-Murray Productions, Berman Productions and Plimsoll Productions for National Geographic. Al Berman, Gil Goldschein, Andrew Jackson, Martha Holmes and James Smith are executive producers. For National Geographic, Michael J. Miller is the executive producer; Kevin Tao Mohs is vice president, production and development; and Tim Pastore is president of original programming and production.
For additional information on Earth Live and to view the full show, visit natgeotv.com/EarthLive.
For more information about Canon EOS cameras and lenses, please visit the Canon U.S.A. website at usa.canon.com.
About Canon U.S.A., Inc.
Canon U.S.A., Inc., is a leading provider of consumer, business-to-business, and industrial digital imaging solutions to the United States and to Latin America and the Caribbean markets. With approximately $29 billion in global revenue, its parent company, Canon Inc. (NYSE:CAJ), ranks third overall in U.S. patents granted in 2016.† Canon U.S.A. is committed to the highest level of customer satisfaction and loyalty, providing 100 percent U.S.-based consumer service and support for all of the products it distributes in the United States. Canon U.S.A. is dedicated to its Kyosei philosophy of social and environmental responsibility. In 2014, the Canon Americas Headquarters secured LEED® Gold certification, a recognition for the design, construction, operations and maintenance of high-performance green buildings. To keep apprised of the latest news from Canon U.S.A., sign up for the Company's RSS news feed by visiting www.usa.canon.com/rss and follow us on Twitter @CanonUSA. For media inquiries, please contact [email protected].
# # #
† Based on weekly patent counts issued by United States Patent and Trademark Office.
Availability and specifications are subject to change without notice.