Canon's #RealTimeTips for photography show up on billboards in NYC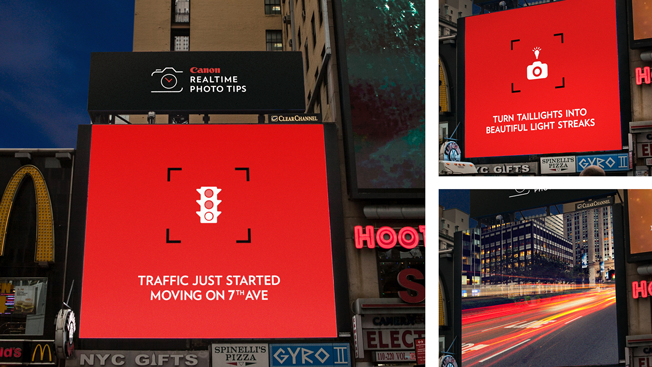 Canon started a campaign that is not necessarily promoting only the company's products. It's a realtime billboard campaign in New York City. Canon and 360i set up digital billboards around NYCs most photographed locations to help people shoot better pictures.
The electronic billboards show weather conditions, time of day, traffic conditions, and more information, and deliver up to 200 different photograhpy tips. In addition, at each billboard location there are experts to give any help you need for your photography. Canon cameras can also be tested. Some of the locations are the Flatiron District, Central Park South (59th Street and 5th Avenue), the Brooklyn Bridge (Brooklyn Bridge Park's Fulton Ferry Landing), Penn Plaza near Madison Square Garden.
Pierre Lipton, 360i's chief creative officer, says:
We started by looking at the hottest regions of photo activity in NYC, based on where people were taking and posting the most photos, which guided the placement of our billboards […] Throughout the campaign we'll be listening on Facebook, Twitter and Instagram and responding to people who submit their photos on these platforms. And that's in addition to all the APIs we'll be listening to—pulling in weather, traffic, location information and more.
The whole thing has a hashtag (#RealTimeTips on Twitter and FaceBook) and a a website where people can find more photography tips (CanonPhotoTips.com).
Basically, I see a clear message here: the best camera is the one you have with you, even better if it is a Canon.