CEO Kazuto Yamaki Talks Sigma's Design Philosophy
Back in September 2014 the folks at Reviewed made an interview with Sigma's CEO Kazuto Yamaki. You can listen to Mr. Kazuto Yamaki's answers in the videos, or have a look at Reviewed's article.
The interview starts about Sigma's new lenses. Around mark 6:00 the talk goes to the awesome 18-35mm f/1.8 DC HSM ART lens (price & specs), world's first zoom lens with constant f/1.8, and a lens of outstanding optical performance. The question "what's next for Sigma?" comes at 8:15. From the interview:
Sigma's Art series lenses such as the 35mm f/1.4 and 50mm f/1.4 have been very well-received for their combination of price and performance, especially the 50mm. What was the mission when designing those lenses? Was your goal to hit a certain price point?

The mission was very simple. I just asked our optical engineer to make the best optical lenses, ever, in history. Before I became CEO of the company, I worked as a manager of the optical design division. And through such experience I realized that if I give a very simple mission… the engineer can do an excellent job. So, when we developed those lenses, I just asked the designers or engineers to make the best lens.
About the Sigma 18-35mm f/1.8:
Another lens that's been very popular for you is the 18-35mm f/1.8—it's the first f/1.8 zoom lens, which makes it quite unique. What were the design challenges for such a lens?

The mission of the project is to develop the first f/1.8 zoom lens. So anything [that's a] "world's first" is really challenging, because there is no such product which we can compare it to. So that's always challenging. So when I started the project I told the engineer, "You don't need to care about the quality, because it's the world's first. It's really challenging. Your mission is just to make the lens f/1.8 zoom, period." And I did not expect, actually, that high quality! (laughs) But surprisingly our optical engineer did a really, really excellent job and he [gave it] really, really good performance.
The video below shows (I think) Sigma's factory and gives an insight in the production process. The interview comes with pics and samples.
[via 
Reviewed
]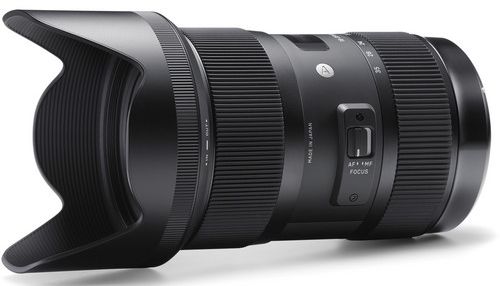 Sigma 18-35mm f/1.8 DC HSM – the lens that
beats them all
(Canon L and Zeiss lenses included)
Sigma lenses on Amazon US.