[Deal] Huge Rebel T4i/EOS 650D/Kiss X6i Bundle (10 Accessories)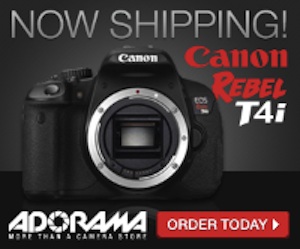 Big starter kit around a Rebel T4i/EOS 650D/Kiss X6i body.  A huge, 10 items bundle that comes at the price the T4i/650D/X6i body usually comes alone. For $850 by Adorama (click here) you get all of the following items:
Canon EOS Rebel T4i Body
32 GB SD Memory Card
Camera Bag
Spare LP-E8 Lithium-Ion Rehargeable Battery
Cleaning Kit
Screen Protector
USB 2.0 Card Reader
8GB USB Flash Drive
Microfiber Cloth
Memory Wallet Card Holder
Red Giant Adorama Production Bundle
Want to know more about the Rebel T4i/EOS 650D? Have a look here.
Have a nice weekend. :-)