Deal: Vello FreeWave IR TTL Flash Commander (Canon) – $49.95 (reg. $109.95, today only)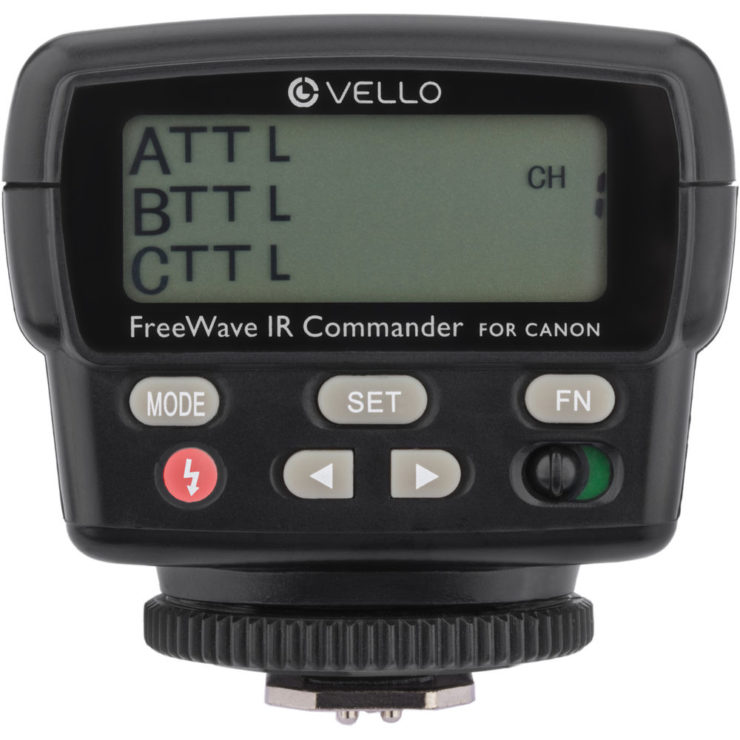 Only for today (5/31/2020) B&H Photo has a 55% discount on the Vello FreeWave IR TTL Flash Commander for Canon.
Get the Vello FreeWave IR TTL Flash Commander for Canon on sale at $49.95. Compare at $109.95. Free shipping.
Key features:
Wireless Infrared E-TTL Control
Sets and Controls E-TTL Flash Ratios
180° Rotation
Up to Three Flash Groups
More hand-picked deals are listed here.
Today's Gold Box and one day only deals at Amazon US, Amazon DE, Amazon UK, B&H Photo, eBay, Adorama.
Refurbished lenses and DSLRs at Canon Store (best deals might be found here)
Save $10 on Luminar 4 and/or Aurora HDR 2019 using our code "WATCH" at checkout.
Vello FreeWave IR TTL Flash Commander for Canon description:
The Vello FWIRC-C FreeWave IR TTL Flash Commander for Canon is the nexus of your wireless flash setup, enabling you to set and control all functions of your wireless slave flash units. Equipped with an infrared transmitter, it provides the freedom of remote IR triggering for multiple flashes, and full compatibility with Canon's E-TTL metering and flash ratio systems for total wireless E-TTL control. It also offers high-speed sync with compatible Canon E-TTL flashes, allowing you to use shutter speeds higher than your camera's top flash sync speed. Three groups and four independent channels deliver enhanced wireless operation, even in busy environments, and the Commander itself can be rotated 180° atop your camera for easy line-of-sight positioning. Your FreeWave Commander is powered by 2 (not included) AA batteries. For storage, your FreeWave comes with a drawstring pouch.
Wireless Infrared E-TTL Control
The Vello FWIRC-C FreeWave Commander makes full use of your flashes' built-in E-TTL technology. Its infrared transmitter offers wireless remote flash triggering for multiple flashes. In E-TTL mode, you'll be able to use the Commander to automatically set the appropriate flash level via your camera's E-TTL metering system data, calculating the correct power for all communicating E-TTL-compatible flashes.
E-TTL Flash Ratios
Achieve a professional level of creative control with up to three E-TTL groups by setting flash ratios at different power outputs. The Commander offers two E-TTL ratio modes, so you can adjust the power output ratios for two or three groups, as well as EV.
180° Rotation
The Commander pivots atop your camera to achieve easy infrared line-of-sight positioning with your flashes' IR sensors.
Three Flash Groups
Position your slave flash units individually or combine an unlimited number of flashes in up to three groups to function as main, fill, accent, and other lights.
Four Independent Channels
Enjoy enhanced wireless operation, even in busy environments. Choose from four channels to prevent your flashes from being triggered by other photographers working with similar systems nearby.
High-Speed Sync
Sync at shutter speeds as fast as 1/8000 second-High-Speed Sync mode allows your flash to exceed your camera's maximum sync speed. It's perfect for using large apertures, when freezing motion, or shooting in bright conditions.
Automatic Standby Mode
The Commander's automatic standby mode reduces power consumption and saves on battery life. An onscreen indicator makes it easy to distinguish between standby and off.
Internal Memory
The FreeWave Commander's internal memory remembers your current settings so you won't have to. When you turn the Commander on, all your previous settings will return as before.
Stroboscopic Mode
Create unique effects in which moving objects appear several times in the frame or capture extremely fast objects as the flash pulsates faster than your camera lens can open and close.
Modeling Light
The modeling light minimizes guesswork by approximating how the flash will illuminate your subject. The flash pulses rapidly to present the appearance of a continuous lighting source, simulating the direction of light. It's easy to use-just press your camera's Depth of Field Preview button.
Flash Exposure Bracketing
With flash exposure bracketing, you can take continuous pictures while automatically changing flash exposure compensation. It's great for shooting when lighting is changing rapidly and other situations in which it's difficult to determine the appropriate flash exposure.
Flash Value Lock
Use the flash value lock (FV Lock) feature to lock the flash output level that's optimal for specific elements of the scene. Lock the EV at a specific setting and override the automation to customize your exposure.