Fantasea Announces Underwater Housing for Canon PowerShot G16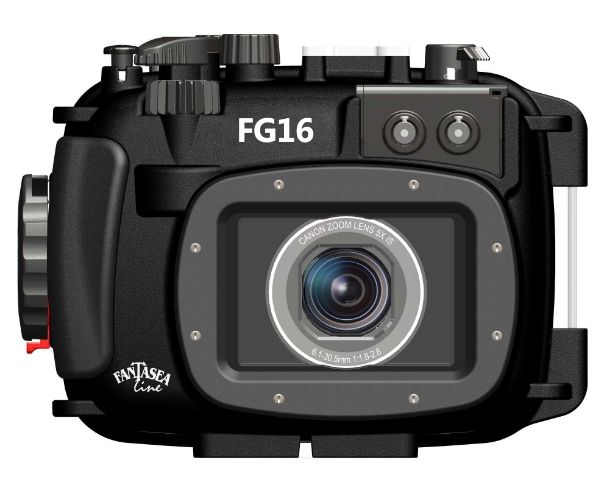 Fantasea announced a new underwater housing for the brand new Canon PowerShot G15, the FG16 Housing. Price not available so far. The housing should be available starting December 2013
The FG16 Housing is ideal for outdoor and underwater photography. Underwater photographers can dive or snorkel and capture all the excitement of this fascinating world, while outdoor photographers also have the option of capturing the action of activities such as white water paddle sports, sailing, boating, surfing, fishing, hunting, backpacking and camping. The FG16 Housing is shock resistant and protects the camera from water, sand, dust, frost and other damaging elements.

The FG16 Housing was designed to be compatible with a complete accessory system, enabling photographers to enhance the quality of their images.
Feature Highlights:
Depth rated to 60m/200 feet
Ergonomic design
Made from durable injection molded Polycarbonate
Full access to all camera controls & functions with clearly marked controls
Shock resistant
Double O-ring seal
Special mount for lighting accessories
Removable double fiber optic cable connection
Removable flash diffuser
Easy and secure installation of camera
Removable anti-glare hood for the LCD screen
BONUS – Moisture Detector comes installed in every FG16 housing at no additional cost!
Dedicated video control button for easy video filming in any shooting mode
Compatible with a wide range of underwater photo accessories
Weight (with camera on land): 1.1 kg
Weight (with camera in 3.6% salt water): -0.3 kg
Dimensions (without accessories): 17 x 13 x 13.5 cm \ 6.7 x 5.11 x 5.4 inch (W x D x H)
Manufacturer's warranty included
Fantasea press release after the break.
[via
photographyblog
]
Fantasea Press Release
Canon has just announced the PowerShot G16 and Fantasea will have a housing for it very soon!
The new and stylish FG16 Housing, for the recently announced Canon PowerShot G16 camera, will be available at the beginning of December 2013, and we are already accepting orders!
Secure stock of the FG16 Housing, ensuring that you receive units as soon as the housing is released, and at the same time – take advantage of a special introduction offer. Please contact us for further information.
Canon G Series cameras are the most popular compacts in the market, the G16 being the best released so far!
Advanced and high quality G16 camera features, including a new DIGIC 5 image processor delivering 45% faster auto focus, shorter shutter lag, increased continuous shooting speed, better performance in low light conditions and WiFi connectivity for instant image transfer to social media– all so very important to underwater photographers!
The FG16 Housing introduces some of the highest and most professional standards of function, style and durability
FG16 System Highlights:
Full access to all camera controls & functions with clearly marked controls
Increased depth ratio of 60m/200ft
Shock resistant system
Ergonomic design
Double O-ring seal for a perfect watertight seal
Built-in moisture detector for increased confidence
Manufacturer's warranty included
Best value-for-money deal
Complete dedicated accessory system available, including optic accessories, flash and video lighting sets and more