New Sigma 30mm Lens For Canon Mount Announced At CP+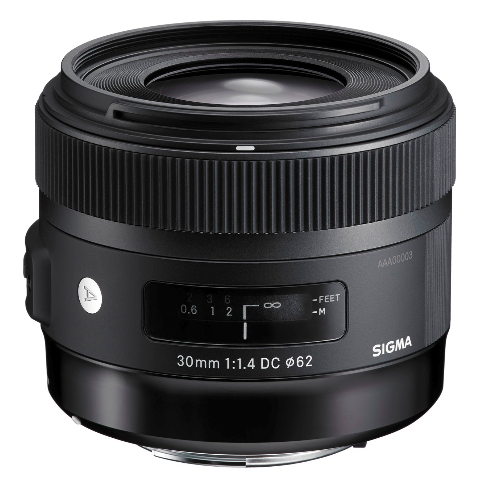 Sigma announced new lenses at CP+, only one for Canon mounts: the newly designed 30mm F1.4 DC HSM, part of its "A" (Art) line-up:
SIGMA 30mm F1.4 DC HSM", the large-aperture standard lens with an angle of view equivalent to 45mm on a 35mm camera, is a superb go-to lens for artistic photography on an APS-C format digital SLR. Offering the bright F1.4 aperture and an angle of view extremely close to that of human vision, this lens is ideal for many different types of photographic expression.

Featuring an advanced design and the latest manufacturing technologies, SIGMA 30mm F1.4 DC HSM, the large-aperture APS-C format standard lens delivers the highest level of image quality worthy of the Art line. The photographer can leverage the shallow depth of field that creates beautiful bokeh for snap shots, portraits, landscapes, and many different styles of photography.
The SIGMA 30mm F1.4 DC HSM can be preordered at B&H (click here)
Sigma's product description:
1. Our Art line delivers high-level artistic quality

Sigma is organizing all its interchangeable lenses into three product lines; Contemporary, Art and Sports. Designed with a focus on sophisticated optical performance and abundant expressive power, our Art line delivers high-level artistic expression. Developed with the maximum emphasis on artistic touch, they are designed to meet the expectations of users who value a creative, dramatic outcome above compactness and multifunction. Along with landscapes, portraits, still-life, close-up and casual snaps, they are perfect for the kind of photography that unleashes the inner artist. Ideal for studio photography, they offer just as much expressive scope when capturing architecture, starry skies, underwater shots and many other scenes.

2. A large aperture F1.4 standard lens

Sigma pioneered the large-aperture APS-C format standard lens category with its 30mm F1.4 lens in 2005. Now that we have reorganized all our lenses into three product lines, we are proud to introduce the fully updated "SIGMA 30mm F1.4 DC HSM". Offering the shallow depth of field of F1.4 and an angle of view extremely close to that of human vision, this lens stimulates the desire to create and is ideal for many different types of photographic expression. The bright viewfinder also aids focusing and composition of images.

3. Outstanding image quality for enhanced photographic expression

Convenient angle of view of a standard lens challenges photographers' expression. The SIGMA 30mm F1.4 DC HSM has outstanding optical performance in order to fully perform its best expressive quality at all shooting distances. Optimized power distribution minimizes field curvature thereby preventing a loss of image quality at the edges of photographs. The use of a double aspheric lens minimizes spherical distortion, astigmatism and coma. Coma of point light sources is minimized near the edge of the image, and an attractive round bokeh effect is produced at large-aperture settings.

4. Incorporating a Rear Focus system

The lens incorporates a rear focus system that prevents focus-dependent variation in aberration, making high-level image quality possible throughout the entire image. With their unchanging barrel length, these lenses also enhance balance and stability for the photographer. Furthermore, since the front of the lens does not rotate, polarizing filters can be used with extra convenience.

5.Flare and ghosting conscious design

From an early stage, flare and ghosting are thoroughly measured to establish the design which is resistant to strong incident light such as backlight. Sigma's Super Multi-Layer Coating reduces flare and ghosting, and provides sharp and high contrast images even in backlit conditions.

[Other Features]

Minimum focusing distance of 30cm

The maximum magnification is 1:6.8, making it excellent for close-up photography.

The HSM (Hyper Sonic Motor) ensures a silent, high-speed AF function. Optimizing AF algorithm, smoother AF is achieved. It also enables full-time manual focusing capability which allows sensible focus adjustment by simply rotating the focus ring.

Incorporating Rounded diaphragm

The 9 blade rounded diaphragm creates an attractive round bokeh at large-aperture settings.

The new product lines incorporate rubber for the attachment part of the provided lens hood. For better usability, the designs of the lens cap and AF/MF changeover switch have been improved. In order to ensure high accuracy of the product, all metallic parts and the new compound material, TSC (Thermally Stable Composite), which has a high affinity to metal parts, are housed internally.

This lens incorporates a brass made bayonet mount which has both high accuracy and durability. A special treatment to reinforce its strength is applied to the surface giving it greater strength and making it highly resistant to long-term use.

Newly developed "USB DOCK" exclusively for new product lines

Attaching the lens to an optional USB DOCK (planned to be available in 2013) plugged to your computer and using dedicated software "SIGMA Optimization Pro", you can update the lens firmware and adjust parameters such as focus.

Evaluation with Sigma's own MTF measuring system "A1"

We used to measure lens performance with MTF measuring system using conventional sensors. However, we've now developed our own proprietary MTF (modulation transfer function) measuring system (A1) using Foveon 46-megapixel direct image sensors. Even previously undetectable high-frequency details are now within the scope of our quality control inspections. The SIGMA 30mm F1.4 DC HSM will all be checked using this "A1" before they are shipped.

All Sigma's manufacturing right down to molds and parts is carried out under an integrated production system. We are now one of the very few manufacturers whose products are solely "made in Japan". We like to think our products are somehow imbued with the essence of our homeland, blessed as it is with clean air and water, and focused, hard-working people. We pride ourselves on the authentic quality of Sigma products, born of a marriage between highly attuned expertise and intelligent, advanced technology. Our sophisticated products have satisfied professionals and lovers of photography all over the world, because our manufacturing is based on genuine craftsmanship, underpinned by the passion and pride of our experts.

[Specification] For Sigma

Lens Construction: 8 elements in 9 groups | Minimum aperture: F16 | Filter size: ø62mm | Angle of view (SD1): 50.7° | Minimum focusing distance: 30cm/11.8in. | Dimensions (Diameter x Length): ø74.2mm x 63.3mm/2.9in. x 3.5in. | Number of diaphragm blades: 9 (Rounded diaphragm) | Maximum magnification ratio: 1:6.8 | Weight: 435g/15.3oz.