A full-frame EF 40-800mm F4.5-5.6 lens coming before 2020, Canon patent suggests? [CW3]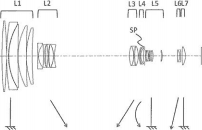 Update: Guess I got a bit overexcited on this. The patent literature refers to 2 optical formulas for full-frame and 2 for Powershot class of cameras. While it is possible that Canon may build such a lens for FF, an application for Powershot is much more likely. However, it's a matter of fact that Canon works on such crazy ideas.
Canon patent for an EF 40-800mm F4.5-5.6 lens. It's suggested this Canon patent could lead to a new EF 40-800mm F4.5-5.6 lens to be announced before the Olympic Games in Tokyo 2020, and, well, I think this is entirely possible so I rate it CW2 CW3.
Patent Publication No. 2016-128846

Published 2016.7.14

Filing date 2015.1.9

Example 1

Zoom ratio 19.42

Focal length 41.09 92.80 152.20 225.00 797.99

F-number 4.67 4.66 4.65 4.67 5.71

Angle of view 27.79 13.13 8.10 5.50 1.55

Image height 21.65

Overall length of the lens 489.32

BF 39.28

Canon patent
[via
Egami
]