Goro Yoshida – The Man Behind Canon's First Ever Camera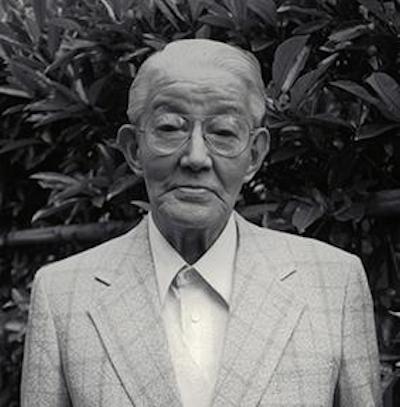 Canon UK on Twitter posted an image of Mr. Goro Yoshida, the creator and driving force of Canon's first ever camera, the Kwanon. Read about the birth of the Kwanon (which was also the birth of Japan's first 35mm focal-plane-shutter camera) and Goro Yoshida's engagement in Canon Camera Museum's "History Hall" article. An excerpt:
When asked about his motives in disassembling a Leica to produce Japanese made high-grade 35mm cameras, Yoshida explained in later years:
"I just disassembled the camera without any specific plan, but simply to take a look at each part. I found there were no special items like diamonds inside the camera. The parts were made from brass, aluminum, iron and rubber. I was surprised that when these inexpensive materials were put together into a camera, it demanded an exorbitant price. This made me angry".
The Telegraph published an "Evolution in Pictures" for Canon's celebration of the 80th anniversary of the Kwanon. From Canon's historical article:
The prototype camera was named "Kwanon" because Yoshida was a believer in "Kwannon, the Buddhist Goddess of Mercy." The camera's logo depicted a thousand-arm Kwannon Goddess, and even its lens was named "Kasyapa" which came from Mahakasyapa, a disciple of the Buddha.