Ikelite Canon EOS M3 underwater housing shipping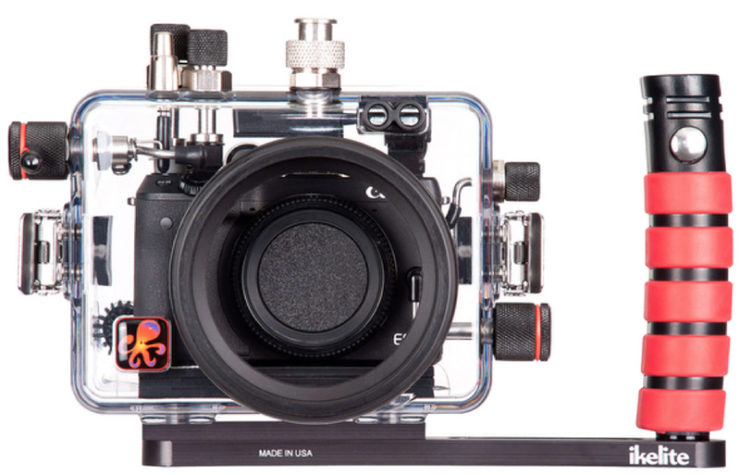 Ikelite released an underwater housing for the Canon EOS M3. Price is around $1,000.
PRESS RELEASE (via Dive Photo Guide)
Underwater TTL Housing for Canon EOS M3 Mirrorless Interchangeable Lens Camera
The two biggest advantages of shooting underwater with an interchangeable lens camera are the variety of great lenses available, and the ability to connect an external flash directly to the camera. The Ikelite housing for the Canon EOS M3 is designed with these key points in mind to deliver a system that truly helps you take better photos in and under the water.
A fast and reliable strobe connection is essential to getting the shot underwater. The Ikelite Housing for the Canon EOS M3 provides a direct electrical connection to the camera's external flash hot shoe. Electrical strobe connection is dozens of times faster than firing the camera's built in flash and extends the battery life of the camera—which is essential when shooting a mirrorless system. Cord attachment is as easy as screwing in a lightbulb, and the threaded fit prevents accidental detachment during use. A variety of sync cord terminations are available for Ikelite, SEA&SEA, INON, or Nikonos strobes for ultimate versatility if you have multiple sets of strobes.
True Canon TTL
Proper strobe exposure is a matter of microseconds, which doesn't leave much time to communicate between the camera and an external strobe. We are the only manufacturer that provides camera-specific TTL encoding for automatic exposure fine-tuned to the EOS M3's sophisticated flash exposure protocol. The TTL circuit built into the housing and powered by the strobe for zero maintenance and no batteries to change. At this time, only Ikelite DS strobes are capable of powering the circuitry. SEA&SEA, INON, and Nikonos strobes will still enjoy fast recycle times and improved battery life, but must be used in manual exposure modes only.
Two fiber optic ports are built into the front of the housing provide an attachment point for fiber optic cords from most major manufacturers. The camera's built-in flash is suitable for firing an external strobe, but not for lighting a photo underwater. Use of a fiber optic connector requires the camera's built-in flash to fire, bypassing the TTL functionality of the housing.
The Lens Support You Want
It couldn't be more simple to change ports than this system—just press the port on and tighten three thumb screws. Feel positive reinforcement that the port is secure with simple parts you can trust in a remote location.
This housing accepts a variety of ports to accommodate all of the most popular zoom, macro, and wide angle lenses from Olympus and Panasonic. Our custom optical grade acrylic domes components provide the color, clarity, and durability of glass at a fraction of the travel weight and cost. Lens port sold separately.
Great Handling
Canon cameras are known for their great ergonomics. We extend this underwater, providing larger controls and push buttons which are easy to access even with thick gloves. Whenever possible, controls are located in the same configuration as on the camera to replicate the muscle memory and familiarity you've developed with your camera on the surface. Control symbols laser engraved into the back of the housing will never peel off or fade even with years of use. The camera's large, super-bright LCD screen is viewable edge-to-edge through the back of the housing.
With a system of this caliber, a tray with handle is essential for the attachment of lighting and comfortable handling in a wide variety of shooting scenarios. This housing includes a balanced aluminum tray with our signature quick release handle for easy attachment and removal of strobes and video lights. This unique handle is curved slightly to fit the natural curvature of your hand, and features a soft over-mold which makes it a delight to hold. The complete tray and handle detaches with the removal of two nuts for packing or to attach the optional Tray with Dual Handles.
See the O-Ring Seal
An o-ring works best when it's true to its original form. Our signature open-groove design suspends the rear o-ring in a natural position and is vastly easier to maintain than a channeled groove design. For added reassurance, there's no substitute inspecting the actual o-ring seal through the back of your housing once it is closed. Special polycarbonate blends allow us to create this extremely strong yet clear and lightweight enclosure. Polycarbonate is fundamentally corrosion-resistant for easy maintenance year after year.
We are proud to offer the only housing and lighting system for the Canon EOS M3 that is 100% designed, built, and tested in the USA. Our housings are handmade and individually inspected for fit, function and waterproof integrity. The average assembly technician is a certified scuba diver and has over 16 years of experience building Ikelite products. We back our products with over 50 years of experience and the most accessible and responsive customer service staff in the dive industry.
MSRP $1050
Product Number 6973.03
This housing requires the addition of a compatible lens port for waterproof operation. Lens port not included.